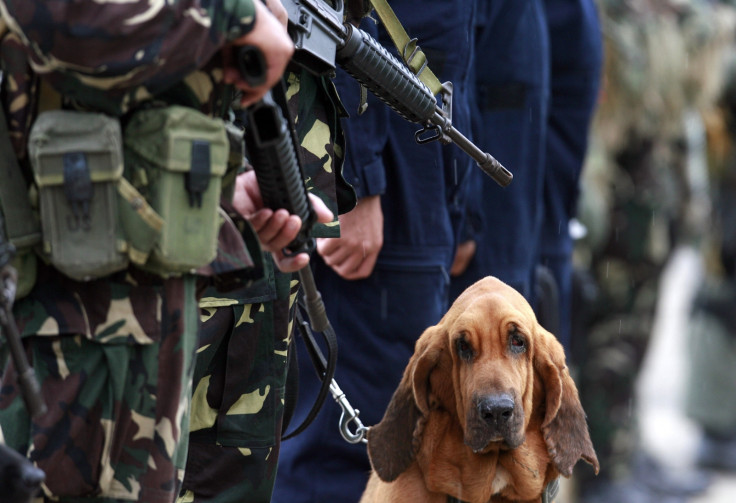 The Philippines police said they detonated a suspected bomb, thought to be a home-made one, that was found in a trash bin near the US embassy in Manila on Monday (28 November).
No one was reported injured, but authorities said they had to close down the road near the embassy as the incident created a traffic jam in the area, where the device was found.
According to media reports, two explosions were heard as the bomb squad defused what police described as a "suspicious" package that was believed to be an improvised explosive device.
Senior Superintendent Joel Coronel said there was no damage from the controlled detonation. He said he received a call before 7am local time (11pm GMT Sunday, 27 November) from a street sweeper Winniefreda Francisco, who claimed she found an old mobile phone with black and red electrical wires that were connected to a package. AP report says the wires from the cellphone were attached to a bottle-like cylinder.
According to local media reports, witnesses reportedly saw a taxicab driver throwing the packing near the US embassy around 2am local time but it was spotted by the street cleaner much later.
"There is no danger, there is no cause for alarm," Coronel was quoted as saying by Reuters. He said the package did not contain any explosives like gunpowder. It was reported that police initially thought the package could have been a bomb.
"The blast you heard was caused by ... a controlled detonation. We are trying to identify who left the package at the trash bin," he added.
However, a police intelligence official told Reuters on the condition of anonymity that the mobile phone was connected to an 81mm mortar shell.
"We are still making further investigations to check if the ordnance is live," the intelligence official said.
He said Islamist militants in the Philippine's central Mindanao province – a restive south – were known to use such shells to make bombs. It was reportedly similar to the one that exploded in Davao City in September.
The police also conducted a sweep of the area to check if there were any other potential bombs in the area, and later declared it safe and secure. The roads were also reopened and business at the embassy is thought to have resumed as normal.
The US embassy officials are yet to comment about the incident.