The Philippines' outspoken president, Rodrigo Duterte, is under investigation by The Hague war tribunal into accusations that he and 11 other Filipino officials committed crimes against humanity in their deadly war on drugs.
The International Criminal Court (ICC) received a 77-page report last April accusing Duterte of direct responsibility for "extrajudicial executions and mass murder" during his three decades in power as mayor of Davao and now as president of the country.
A preliminary investigation into the accusations has been opened, Duterte spokesperson, Harry Roque, confirmed on Thursday (8 February).
Roque described the government crackdown against drugs, which has left thousands of people dead, as a "legitimate police operation".
Since becoming president in 2016, Duterte has urged police officers to kill drug suspects and promised to protect anyone who does from prosecution.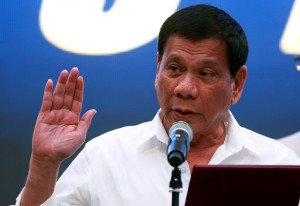 More than 12,000 suspected drug users and dealers have been killed in Duterte's war on drugs, Human Rights Watch estimated. Four thousand are thought to have been killed by police officers and the remainder by "unidentified gunmen."
After three teenagers were killed by police last year, Duterte suspended police operations and handed the campaign against drugs to the Philippine Drug Enforcement Agency.
But in December, he put the police back in charge. At least 50 people have been killed by officers in the two months since, the Philippine National Police said.
Roque told reporters that Duterte was "sick and tired of being accused of the commission of crimes against humanity".
The report was filed at the ICC by Filipino lawyer Jude Josue Sabio who represents two men who claim they worked as assassins for Duterte in Davao.
After the ICC investigation was announced, Sabio said he was "elated and vindicated."
"[I am] confident we will hurdle this first big step, and hopefully a warrant of arrest will be issued by the ICC against Duterte and his cohorts," he told Filipino reporters.
Filipino senator Antonio Trillanes said the inquiry should "jolt Duterte into realising that he is not above the law".
"More important, this is the first step for the victims' families quest for justice," he said.