Dwain Chambers is looking forward to a meeting with 100m world record holder Usain Bolt this week after returning to action for the first time since learning his Olympic ban was overturned.
The British Olympic Association's bylaw stating athletes who have previously served suspensions for doping are banned from subsequent Olympic Games was deemed unlawful by the Court of Arbitration for Sport last month.
Chambers is one of several athletes to profit from the ruling, which will see him take his place in this summer's London Games, should he achieve the Olympic qualifying standard during June's trials in Birmingham.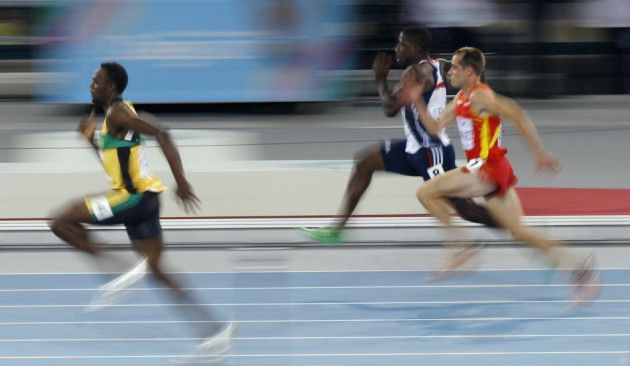 "I never thought that this chance will come again," Chambers said. "I'd resigned in my mind to thinking that whatever happens, happens and I'll just continue to do the best in my career while I can.
"But now things have turned around and I'm very fortunate and very grateful for that - to get the chance to appear in front of a British crowd and that's something I've wanted to do for a long time.
"I've still got to hit qualifying time to make all this hard work justified so I'll get myself prepared for Ostrava and the relay in Rome and then it's pretty much countdown to the trials.
The 34-year-old finished second in the 150m at the Great CityGames in Manchester on Sunday, behind American Wallace Spearman, running an 100m split of 10.26 seconds, just short of the time required to qualify for Team GB.
Looking to build up ahead of steam before next month's all important trials; Chambers will have the opportunity to test himself against Jamaican Bolt in Ostrava, Czech Republic on Friday.
Bolt ran the fastest 100m of the season earlier this month in his homeland, and is again expected to dominate on the track in London along with fellow countryman Yohan Blake and Asafa Powell, who emerged victorious from the Diamond League meeting in Shanghai.
Britain's leading sprinter Chambers is relishing the opportunity to take on Bolt later this week.
"I'm looking forward to it," he added. "My tasks are getting harder and harder but it's opportunities I really relish.
"I'm going to keep my head focused on the races in task, I still have to remain injury free and still make the team so that's my main objective."