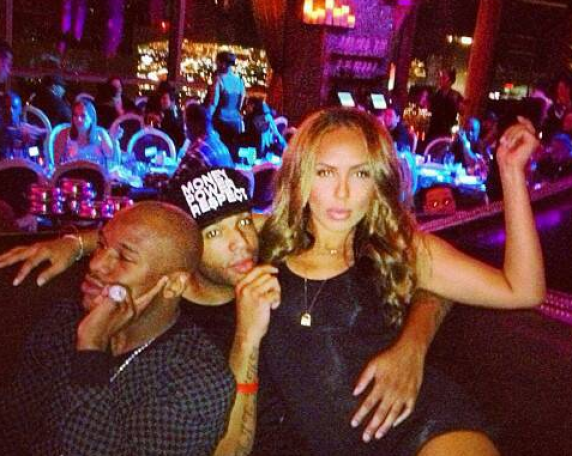 Boxer Floyd Mayweather Jr has opened up about witnessing the murder-suicide involving his friend and rapper Earl Hayes and Hayes' wife, Stephanie Moseley, admitting he is still grieving.
The welterweight champion had been speaking to Hayes on FaceTime when the rapper flew into a rage over his wife's alleged cheating and shot her.
According to TMZ, Mayweather told police officials he tried to diffuse the heated situation and stop his friend turning the gun on himself.
"You know, I just went through a lot. It was a tragedy, as you know. Earl Hayes and Stephanie Moseley both were my friends and they both will be missed. I loved both of them," he told Fighthype.com
The famously flamboyant sports star also confessed the traumatic incident had changed his outlook on life.
He said: "You know, talking to my friends, both of them, on FaceTime, and then out of nowhere, you know... things happen. The only thing I can do is ask God to make me become a better person. Make my team stronger and make me become a better man, a better person, and just try to be the best that I can be at whatever I'm doing."
Law enforcement officials rushed to the Hayes and Moseley's apartment in LA residence Palazzo East after residents reported hearing 10 gunshots.
Mayweather continued: "Like I said before, you live and you learn. With that incident that happened, I mean, it's hard. People grieve differently. It's hard, but I cannot stop living. People think that I should just stay in the house and just mope and cry?
"No! I'ma do what Earl Hayes would want me to do and I'ma do what Stephanie Moseley would want me to do: continue to live and continue to try to make my team stronger and try to make this world a better place.
"Sometimes, when I'm at home alone, I reflect back on my life and think about a lot of things. They always say: 'What don't kill you makes you stronger.' I use everything as motivation to become better at what I do."
Meanwhile, Mayweather could soon find himself in the ring with Amir Khan if the Brit has his way.
The 28-year-old star, who recently demolished Devon Alexander in Las Vegas, believes he is ready to take on the world's best.
"I really believe I've earned my shot against the best boxer in the world and that's Floyd Mayweather. We will come back here and take the belt. I want my chance," Khan said.
"Floyd Mayweather is the ideal fight for me. I think he is the best pound-for-pound boxer and it would be a game of chess, but against Mayweather I would be too skilful. I have the skill and movement to beat him."