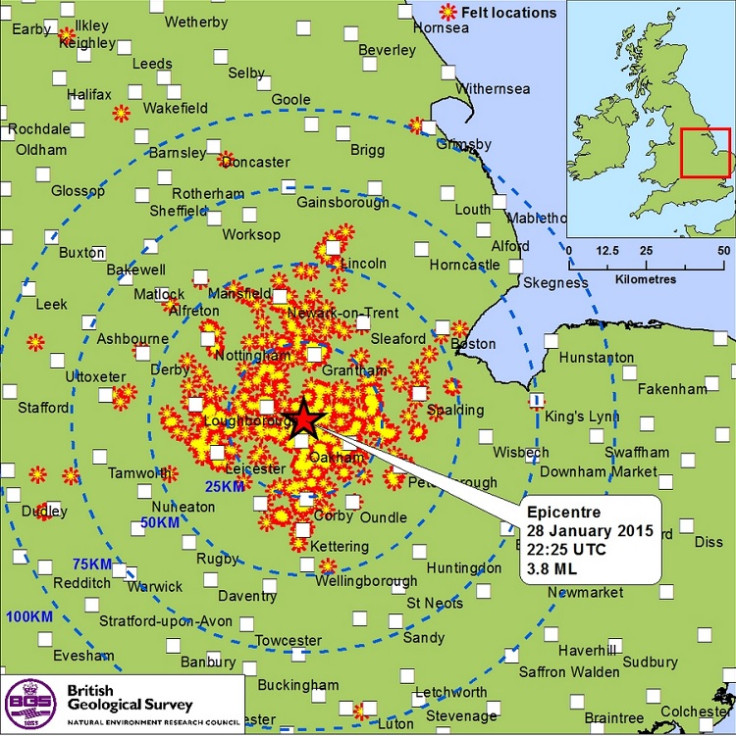 A second earthquake has hit Britain within 48 hours with a magnitude of 3.8 in the East Midlands, according to the British Geological Survey.
The epicentre of the quake was recorded near the village of Cottesmore, in Rutland, at around 10.25pm at a depth of 10km on Wednesday – the shockwaves of which affected Leicestershire, Rutland, Lincolnshire and Northamptonshire.
British Geological Survey said it had received more than 1,400 people reported feeling the Oakham tremor, including residents from as far away as Birmingham and Huddersfield.
One resident tweeted: "Think we have just had an earthquake in Oakham .... Deafening roar and much shaking. Ooooh er!"
Jonathan Agnew, the BBC cricket correspondent who lives near Cottesmore, tweeted: "The earth just moved in the Vale. I mean seriously. Anyone else feel it?"
The British Geological Survey (BGS) said: "Just looking into reports of a possible earthquake in the Leics/Rutland area. Watch this space."
It comes as an earthquake with a magnitude of 2.9 was recorded in Winchester, Hampshire on Tuesday.
Police were overwhelmed with reports of buildings shaking with some believing an explosion had taken place. No injuries were reported.
It is not uncommon for Britain to experience earthquakes especially in Rutland where three tremors were reported in two weeks in April 2014.