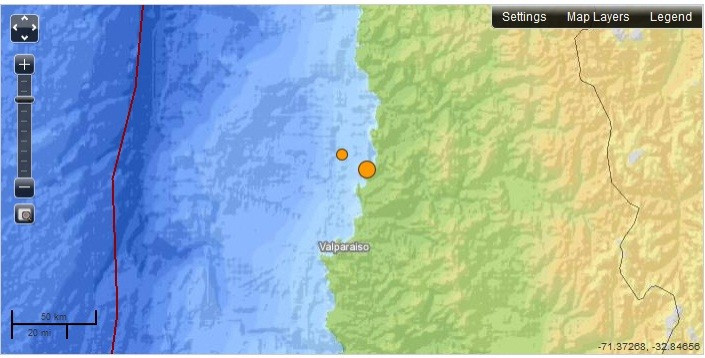 A powerful earthquake with a magnitude of 6.7 hit the Valparaiso city of Chile on Tuesday.
No major immediate damages or deaths have been reported from the region and the quake is unlikely to trigger a tsunami. So far only one elderly man has died due to heart attack by the shock of the earthquake.
The epicentre of the quake was 26 miles (42 Kms) northeast of the eastern coastal port of Valparaiso and had a depth of 23 miles, according to the US Geological Survey (USGS).
The Chilean navy's hydro graphic and oceanographic service ruled out the possibility of a tsunami although the quake made people flee buildings in the capital Santiago. People are also evacuated from the coastal areas as a precaution.
There are no reports of damage to the country's important copper mines.
"We have no reports of any damage or injuries so far," Reuters quoted the state emergency office ONEMI's spokesperson as saying.
The quake which struck minutes before midnight (local time) shut down the power and telephone services without causing any serious damages so far.
Chile's airports and roadways appeared undamaged. But there were a few reports of rock sliding too, according to a report by the Associated Press quoting the Public Works Minister Laurence Golbourne.
The country is highly prone to severe earthquakes as it lies in the pacific ring of fire. Areas that fall within this region are in constant danger of volcanoes and earthquakes.
In fact, the area has seen more than 81 per cent of the world's deadliest earthquakes. The ring also has more than 90 per cent of the world's 1,500 active volcanoes, according to the USGS.
This is yet another strong quake in the ring after powerful quakes with magnitude of more than 8 struck Indonesia on 11 April.
Chile was hit by a deadly earthquake of magnitude 8.8 combined with a tsunami in February 2010 which killed several hundreds.
The region also witnessed another deadly quake on 25 March, which many people termed the strongest and the longest since 2010.