Yuletide festivities for the residents of Walford in EastEnders are never a quiet affair and 2015 will be no different. The new Christmas trailer teases plenty of drama, death and mayhem as the festive period approaches, with characters such as Stacey Branning, Phil Mitchell and murderous Bobby Beale taking center stage.
Ahead of its Christmas Day (25 December 2015) episode, the BBC One soap has treated viewers to a brief look at what is in store for the doomed Albert Square folks. The teaser opens with Patrick Truman and Denise Fox sitting at the dinner table uniting for their family meal before Kat is seen returning to the square looking uncharacteristically happy. Her cousin Stacey Branning is then seen giving birth to her son with boyfriend Martin by her side, however the baby's real father Kush Kazemi walks in on the happy moment.
Of course, Martin is currently unaware that he is not the father but Stacey's big secret looks set to come out in the middle of the celebrations. The thick of the drama comes after patriarch Ian Beale raises a toast "to family and friends" before he is seen walking through some woodland with Phil Mitchell in the search for young Bobby and Denny Rickman. It appears disaster could be ahead for Denny as his mother Sharon Mitchell is seen shaking Bobby, demanding to know: "What have you done to him?"
Watch the EastEnders Christmas trailer 2015:
Speculation that Bobby kills again is fuelled when Sharon tells Ian: "I'm trying to protect you," before Ian chimes in: "He's not right," prompting Sharon to exclaim: "He's not right!" Interspersed with scenes of Bobby smashing his desk, Jane tells Ian: "Sharon is going to the police about Bobby," before Ian and Phil are seen at the police station – will Ian grass up his son for killing Lucy? Things are not looking good for an unfortunate character when a car is seen flipping and crashing in the woods, although the driver and passengers are not seen.
Elsewhere, Ronnie has landed herself in hot water as she is seen running through the square before her former lover Vincent Hubbard asks her: "What have you done?" The soap's producer Dominic Treadwell-Collins has prepared viewers for a very dramatic Christmas and New Year period, telling BBC London: "We've kind of pushed the boat out a little bit this year.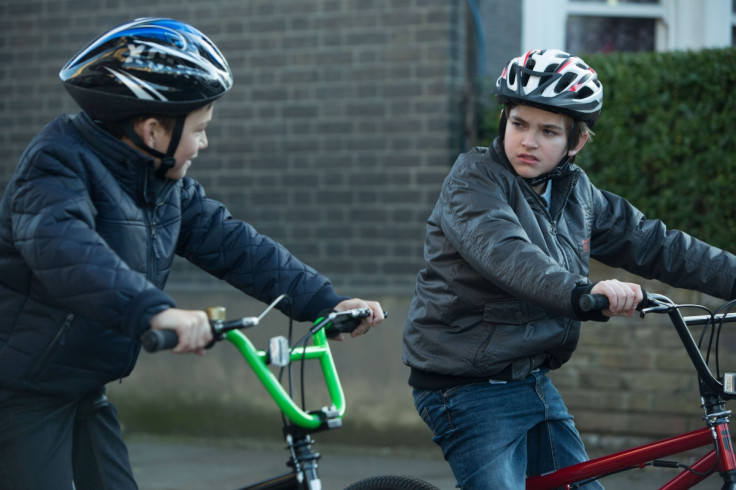 "Normally EastEnders looks at Christmas Day on its own, but what we've tried to do this year is look at it the way we looked at Live Week back in February. From Christmas Eve, going all the way through to January and beyond, the stories keep on coming and the twists keep on coming."