Christmas is rarely a happy occasion in soaps with death, cheating scandals and even baby swaps among the shocking storylines to have kept the public at the edge of their seats in the past. EastEnders, Coronation Street, Emmerdale and Hollyoaks will be stirring up the action as Christmas Day (25 December) approaches, but which characters are set to dominate screens during this festive period?
As the countdown to turkey day begins, IBTimes UK recalls and teases all the storylines that will entertain the public over the Christmas and new year period...
EastEnders
Dean Wicks will finally get his comeuppance for raping Linda Carter with the drama expected to unfold during her new year's wedding to Mick. Previous reports suggest Dean could die in a drowning accident but who will be responsible?
Almost two years after he committed the deed, it looks as though little Bobby Beale will finally be brought to justice for murdering his older sister, Lucy – but not before he strikes again. The young killer will push his mother Jane down the stairs during an argument with his back-from-the-dead grandmother Kathy, but will Jane survive?
After swapping miserable Walford for the sunny climes of Spain following their lottery win, Kat and Alfie return but with a whole new set of dramas. Will Kat find out that she has a secret son and will Alfie reveal his brain tumour?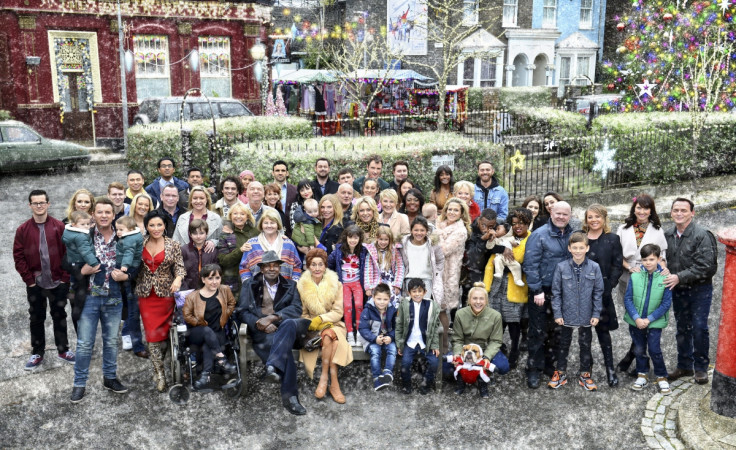 Kat's dad Charlie returns to Albert Square but it will not be a happy reunion for long as he is expected to die in the new year. Meanwhile, Stacey's huge secret comes to light – that Kush is the real father of her baby boy, betraying boyfriend Martin and her best friend Shabnam. Although it looks as though the mother-of-two will escape the fallout with pictures showing her fleeing the hospital in the back of her uncle Charlie's black cab.
Will it be an unusually happy occasion for the Mitchells? Phil is seen taking a group selfie and appears to be back on the wagon after giving into the temptations of alcohol recently. However, with Vincent revealed to be a police informant on a mission to take the Mitchell clan down, a happy Christmas is unlikely.
Coronation Street
Surprisingly, show producer Stuart Blackburn promises Christmas on the cobbles will be a lot more chirpier than previous years. He said: "We shot the Christmas show about a month ago. We are going to have a happy Christmas this year. I think we deserve it."
Tracy has gotten herself into a real tangle of a situation – the mother-of-one has been secretly dating her incarcerated ex-boyfriend, Rob Donovan, but she is unaware he is seeking revenge on both her and Carla for putting him behind bars.
Tracy believes they have a future together but is also expecting a proposal from her boyfriend Robert. On the other hand, Carla is planning on proposing to Nick but their romantic bliss could be rudely interrupted by Rob threatening to expose a Connor family secret.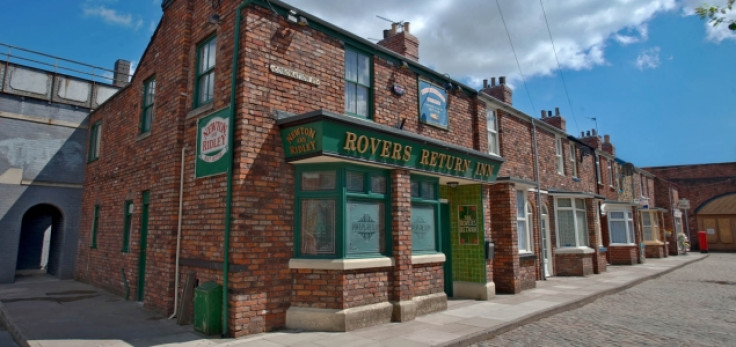 Tyrone is desperate to ensure his sick daughter Hope sees Lapland but he is falling further into debt, which will perhaps throw a spanner in the works. The Platt family are still in turmoil after Kylie murdered blackmailer Callum in the live episode, and David is hell-bent on keeping her quiet at the cost of their marriage.
Emmerdale
Could Eric Pollard finally reconcile with his son David on Christmas Day? Their relationship has been strained since the death of Eric's wife Val but perhaps they will put their differences aside in time for the new year. Eric thought he would be alone for Christmas but a difficult guest at the B&B will keep him occupied. The festive grump in question is Mrs Winterbottom, played by Liz Dawn who is best known to viewers for playing Vera in Corrie.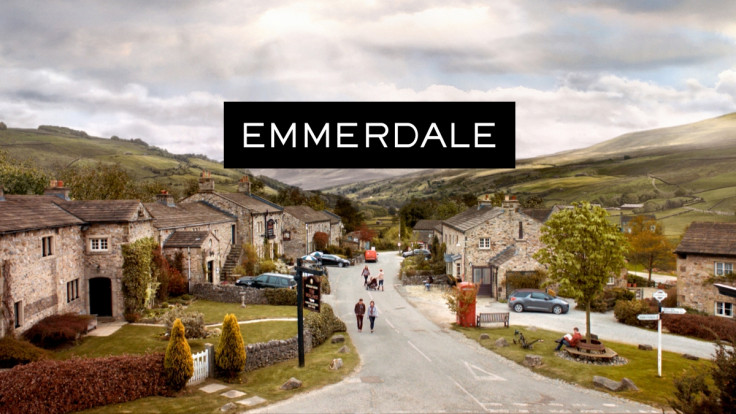 Elsewhere, Vanessa Woodfield has brought premature baby Johnny home just in time for Christmas but life will not be quite so straightforward – she has been dating ex-boyfriend Kirin Kotecha but is unaware he is the biological father of Johnny after Kirin's father Rakesh faked the DNA tests to shield his son from becoming a young father.
Hollyoaks
Channel 4 will make sure its staple show's 20th anniversary year will close with explosions – quite literally. Patrick's health is deteriorating and he has asked Maxine to help him die. However, he is secretly masterminding a plot to frame her for his murder. Will he go through with it?
Pete has been exposed as a paedophile after abusing Porsche and grooming Cleo. However, his plans to dissuade Cleo from telling the police appear to backfire when he is seen being put into handcuffs in the show's winter trailer.
Lindsey worries that she could be revealed as the Gloved Hand Killer but judging by the trailer, her secret could be out with Mercedes catching her in the act, trying to kill Kim who knows everything. Harry and Ste enjoy a passionate hook-up but Ste has a deal with John Paul – that they would meet up under the arch on Christmas Day if they still want to be together.