EastEnders favourite Charlie Cotton made a shock return to reveal the full extent of Max Branning's deceit. Viewers were thrilled about it, but a major blunder in last night's (14 December) episode almost stole the limelight from Charlie's big comeback.
Robbie Jackson and Donna Yates started out as bitter foes, but their bond seems to have grown over time. With the two fighting and flirting in equal measures, the soap has been constantly hinting at a possible romance for the pair.
In a bid to finally bring them together, Whitney tricks Robbie and Donna into entering the pub kitchen just to lock them in.
While Whitney's scheme was a great one, eagle-eyed viewers of the BBC soap were quick to notice a glaring mistake in the scene—an escape route that both Robbie and Donna had conveniently failed to notice.
After luring the two to the pub kitchen, Whitney is seen slamming the door shut and shouting from the other end: "You can thank me later."
Robbie doesn't seem to think this ruse of Whitney's is amusing and starts banging on the door yelling, "kidnap!"
He starts making a big fuss about being stuck and unable to work on his big presentation. However, if he'd only looked a little harder, he would've noticed a fire exit just behind him.
While they both say they don't want to be stuck in the room with each other, neither Robbie nor Donna give any attention to the fire exit and don't bother checking to see if it works.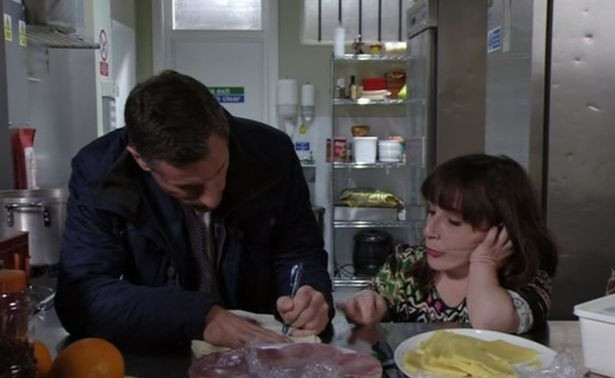 Once they realise that there's 'no way out', Donna fixes a sandwich saying: "We're not going to starve. Do you think I want to be locked in a room with you?"
The two manage to use their time in the kitchen productively and work on Robbie's presentation. They even lean in for a kiss but Whitney walks in at the inopportune moment, ruining what could be a big romantic scene.
Could it be that Robbie and Donnas secretly wanted to be locked in and deliberately ignored the fire exit?
Viewers took to Twitter to point out the blunder in the last episode of EastEnders. Here's what they said: