Fiction may be mimicking reality as Danny Dyer's on-screen character Mick Carter is watching his life spiral out of control in an EastEnders storyline.
The Queen Vic landlord faces jail for Aunt Babe's under-the-counter selling of alcohol. But when he gets an offer that could stop it, he refuses, leaving the Carter family confused by his actions.
Things take a rather intense turn when Mick is comforted by his pretty daughter-in-law Whitney, and the pair end up getting rather close as she tries to help him with the family's financial situation.
Mick tries a few quick-fix-money ideas, which don't go to plan, and decides to turn to drinking to help ease his problems. He subsequently has a drunken conversation with Whitney and they end up having an intimate heart to heart.
The pub landlord eventually breaks down in front of Whitney as his troubles get the better of him, which include his mounting debts, guilt over his family and wife Linda remaining in Spain, as well as problems with the Queen Vic.
Mick's mother ends up furiously confronting Whitney after noticing the pair's developing relationship, but with his overwhelming money problems, Mick may find comfort in the growing bond. The Daily Star also claims that the pair will indulge in a full-blown affair and Whitney will become pregnant by Mick.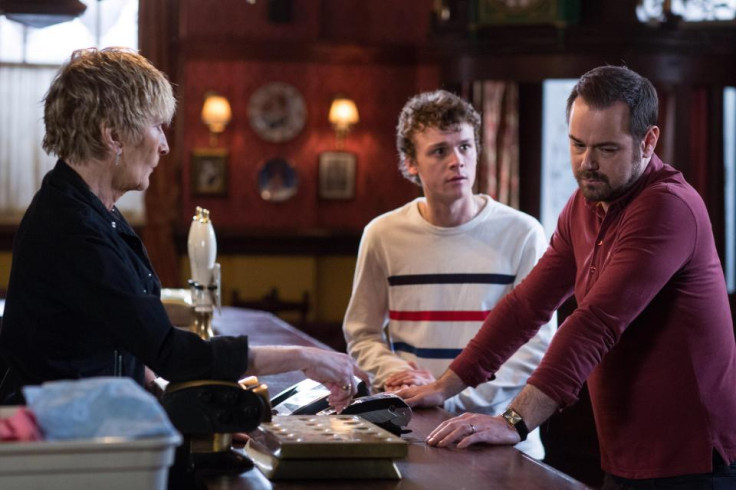 Viewers already know that Whitney cheated on her husband Lee with his own father, Mick, after being run over by a bus and kissing him in her hospital bed. He had also previously kissed her before her wedding to Lee, so feelings between the pair have been deepening over time.
The Carter family's strong storylines are in jeopardy over the coming months, however, as actor Dyer is taking a break due to claims of heavy drinking. He is taking a few weeks off from the soap to "sort his life out".
Dyer sparked concern among producers after his behaviour at last month's National Television Awards following a failed bid to quit the booze. Bosses are determined that the time off will get him "back to his best" and that he will bounce back after appearing exhausted.
EastEnders continues tonight (28 February) at 7.30pm.