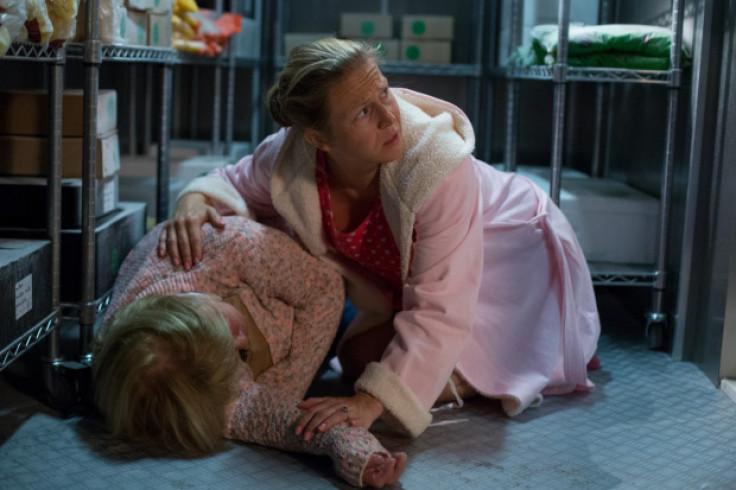 Aunt Babe will be the victim of a vicious attack in an upcoming episode of EastEnders as she pushes one of her enemies too far. Albert Square will be left in shock after the tragic incident leaves Babe Smith (Annette Badland) for dead but whodunit?
There are a few clues as to who the attacker may be, as Babe hasn't exactly been Walford's most popular resident in her time as an 'Ender. She blackmailed Pam and Les Coker after discovering his cross-dressing secret and forced Abi into sleeping with someone – Lee – to get pregnant. Linda Carter raised an eyebrow when she learned that Babe ran a 'human baby farm' in the past.
And though Babe has been rubbing everyone up the wrong way of late, from manipulation to blackmail and threatening insults, viewers may agree that she doesn't deserve to be brutally hurt.
After causing havoc somewhere or other, a certain someone seeks revenge on Babe when she is closing up for the day. Linda and Whitney find her lying on the floor unconscious and she is swiftly rushed to hospital. But who did this to Babe and will she survive? Viewers will have to find out when EastEnders air these scenes in the week starting 15 August, BBC1.
As it stands, Abi, Pam and Les Coker are the prime suspects, along with Claudette, who will do Pam any favour she wishes. But seeing as Babe isn't the most liked resident on the square, the list is pretty endless, we're afraid to say.
Elsewhere in the soap, Phil and Grant Mitchell will get into a fight in tonight's (8 August) episode of EastEnders. Alcoholic Phil will be wrongly accused of killing their mother Peggy leaving both Phil and Sharon flabbergasted.
But what we really want to know is which Mitchell brother will Sharon pick now that Grant has told her he loves her? It might just be unveiled on tonight's episode at 8pm on BBC1.