Ebola: Giant Microbes Company Sells Out 'Lifelike' Virus Stuffed Toy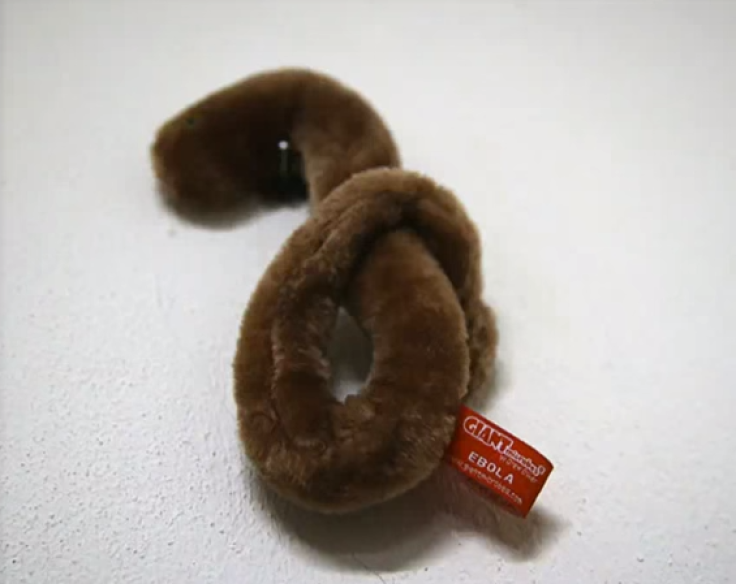 Thousands of people worldwide are buying a stuffed toy resembling an Ebola virus strain.
Connecticut-based toy company Giant Microbes, which manufactures the item, said sales have sky-rocketed in recent months, with the virus shooting to prominence due to its recent outbreak which has killed more than 4,500 people in West Africa.
On the company's website, the Ebola-looking toy is advertised with the blurb: "Since its discovery in 1976, Ebola has become the T. Rex of microbes. Share the love!"
There are also two other versions of the toy, a "gigantic doll" which is 24 inches (60 cm) long and a "petri dish".
"You do not want to get Ebola," warns the website. "A short incubation period of 2 to 21 days presages symptoms which include fever, aches, sore throat, and weakness, followed by diarrhoea, stomach pain, vomiting, and both internal and external bleeding. And then, for between 50-90% of victims, death."
The account manager of Giant Microbes' branch in Devon, UK, told Newsbeat that they no longer have a "single one" of the toys left.
"We've been running the Ebola toy for years but now everyone's after one," said Carol Allam.
"We've sold thousands over the last couple of months. They are all gone. It's because it's so lifelike.
"If you look under a microscope you'll see the shape [of the Ebola virus] is just like the toy."
Allam added the toy does not aim to ridicule the gravity of the disease, but was made for "educational purposes".
Giant Microbes sells other virus-resembling toys such as the Chicken Pox and Yersinia Pestis (black death).
The company said the World Health Organization, Red Cross and pharmaceutical companies are among the biggest purchasers of the Ebola toy.
Ebola is contracted by contact with infected bodily fluids. The disease, dubbed by some "the new Aids", is causing growing concern worldwide, as hundreds of people are dying every day in Liberia, Guinea, and Sierra Leone.
Many countries are banning flights from Ebola-hit nations as a result of growing concern that the deadly virus could be spread to other countries if people from affected areas are allowed to travel.
© Copyright IBTimes 2023. All rights reserved.