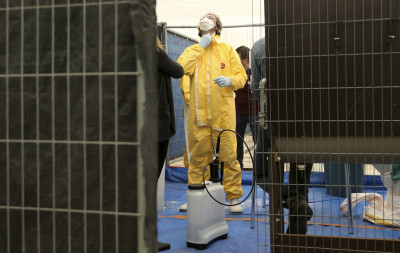 The World Health Organisation said it is unlikely that an Ebola outbreak will spread from Africa to the West, as US officials try to trace all passengers on board Frontier Airlines flight 1143 who flew with a nurse who contracted the deadly virus.
WHO director of strategy Christopher Dye said health systems in Europe and America were capable of effectively dealing with the disease that has killed 4,500 people so far, mostly in the West African states of Guinea, Liberia, Sierra Leone, Nigeria and Senegal.
"We're confident that in North America and Western Europe where health systems are very strong, that we're unlikely to see a major outbreak in any of those places," Dye told the BBC, adding that the introduction of the virus in the West was however a matter "for very serious concern".
His announcement came after it was revealed that the Centers for Disease Control and Prevention (CDC) gave 29-year-old Amber Vinson – the second Texas nurse to be diagnosed with Ebola – permission to fly on the commercial flight from Cleveland, Ohio to Dallas, despite complaining of Ebola symptoms mulitple times, such as having a 37.5C (99.5F) temperature.
Officials are now trying to contact the rest of the 132 passengers who flew with Vinson.
Vinson was exposed to the virus while caring for Thomas Eric Duncan, an Ebola patient who travelled to the US from Liberia. He died last week.
The nurse, who was diagnosed with Ebola a day after the Frontier Airlines flight, was being closely observed after a colleague, Nina Pham, who also looked after Duncan at a Dallas hospital, was diagnosed with Ebola.
Earlier, US president Barack Obama also sought to ease fears of the disease spreading in the country, saying the risk of Americans being infected was "extremely low".
He nevertheless instructed his administration to step up efforts, saying monitoring of the disease must be "much more aggressive".
Ebola is more difficult to catch than other airborne viruses like flu, as it transmitted via humans through exposure to secretions such as blood, vomit or diarrhoea.
The symptoms of the virus include fever, sore throat, diarrhoea, and internal and external bleeding.