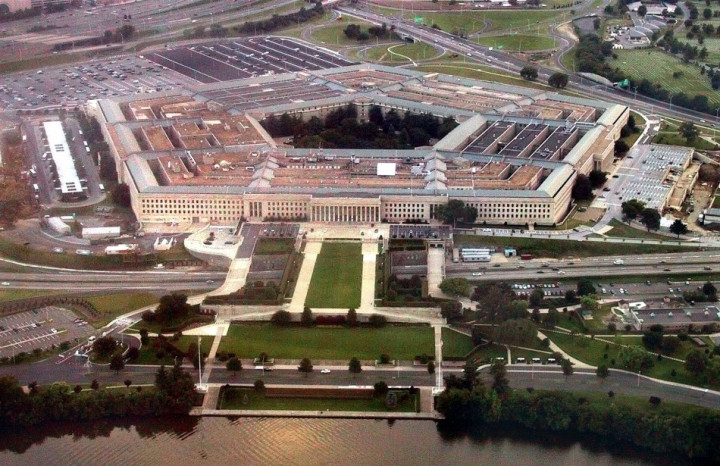 The Pentagon police have shut down a building entrance and part of a car park, after a woman who revealed she was in Liberia two weeks ago, was taken ill.
The unnamed woman began vomiting after she got off a shuttle bus that was transporting guests to a Marine Corps ceremony.
A Hazmat team from Arlington County, Virginia, responded to the suspected ebola case and transferred the woman to hospital by ambulance.
Pentagon spokesman Lt Col Tom Crosson said Pentagon force protection officers imposed infectious disease protocols. All pedestrian and vehicle traffic was stopped in the car park, as a matter of caution.
The other passengers on the shuttle bus were released and advised to take their temperatures twice daily for the next 21 days, which is ebola's incubation period.
Officials notified the FBI and were checking the woman's background and the details of her travel to West Africa.
Brian McGraw, of Arlington County Fire, told The Washington Post that at this stage authorities "have no information or conditions to confirm this is Ebola."
The latest ebola scare underlines the heightened state of alert in the US over the haemorrhagic fever, after two Dallas nurses caught the deadly virus after treating the first patient diagnosed with the disease in the US.
Ebola is transmitted by contact with infected bodily fluids. Its symptoms include fever, diarrhoea and vomiting.
The disease has killed more than 4,500 people in West Africa. The US Centers for Disease Control and Prevention (CDC) warned that if no effective measures were taken to stop the outbreak, between 550,000 and 1.4 million people could contract the ebola virus by January 2015 in Sierra Leone and Liberia alone.
According to the World Health Organization,around £614m is needed to prevent the outbreak from turning into a human catastrophe.
UK Health Minister Jeremy Hunt warned that the outbreak could become as serious as the Aids epidemic if it is not contained.