Ed Miliband has spent much of the past week attempting to woo sceptical buiness leaders when it has appeared it is members of his own party he needs to win over.
The week has been marked by speeches from Miliband, shadow chancellor Ed Balls and business spokesman Chuka Umunna designed to prove Labour is not the enemy of business and enterprise.
There has been no shortage of initiatives including economic devolution to the regions and the creation of a national infrastructure commission to provide long-term plans to meet needs generated by transport, energy, roads and climate change.
But the Labour leader has been struggling to get his message heard above a chorus of criticisms from senior party figures, including policy guru Jon Cruddas, which have been amplified by the hostile sections of the media and created the impression of a leader under threat from his own side.
In two leaked comments, Cruddas is quoted as saying any bold policy ideas were being stifled by the "dead hand" of the leadership and, later, that Miliband was being "gamed out" on a weekly basis.
Meanwhile former adviser, Lord Glasman, wrote the party lacked a sense of direction, although he later apologised explaining he meant the party needed "a genuine story" leaving some to wonder what the difference was.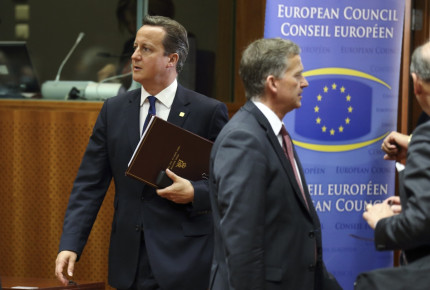 It is certainly the case that Labour's union links - with Unite promising to continue funding and laying down a few demands - have been used more effectively by the Tories than Labour's attempts to attack Cameron's links with multi-millionaires and lobbyists through private dinners and receptions.
It is also true that there are divisions over future policy direction at the heart of the party and plenty of Labour MPs who never backed Miliband and are always ready to say so privately.
Although it is also pointed out that the widely-predicted, and traditional "Labour civil war" in the wake of its devastating 2010 defeat has not happened. So far.
The Tories, meanwhile, are united albeit because Cameron has moved decisively into Eurosceptic territory. And it was notable that Miliband received warm applause from his business audience when he repeated his determination to remain in the EU.
In any case these are all the usual undercurrents that exist at the centre of any political party, particularly an opposition. They have been given more power by Miliband's poor personal polling, a series of presentational gaffes and the waning of previously successful campaigns over the cost of living crisis and energy bills.
It has become increasingly obvious that Miliband is suffering from the lack of a professional broadcast and presentation adviser in his team to spot blunders before they happen.
And there is a genuine concern that, while the government's "long term economic plan" mantra is hitting home and will grow in power as the economy improves further, Labour is still lacking something to match it.
The cost of living crisis is a continual refrain but many Labour insiders believe something new is needed to push them towards victory in 2015.
Miliband gave an indication of what that might be when he focussed on growing problems within the NHS during his weekly Commons clash with Cameron. And it is likely to be a campaign running through the summer.
But his critics need more of that famous "narrative", the easily-grasped story, often summed up by a short sharp slogan, that allows voters to get a real grasp of what a Labour government would mean for them and the country.
That would trump any concerns over whether "weird Ed" Miliband "looks like a prime minister", which is a pretty meaningless phrase anyway.
All eyes will now turn to the policy review to be presented by Cruddas later this summer and Miliband's keynote conference speech when he should indicate what those big, radical and popular policies might be.
When MPs return to the Commons in Ocotober, and assuming Scotland doesn't vote for independence in which case all bets will be off, the general election campaign will be the only game in town and all three parties will need to be united behind their leaders and their manifestos.
Miliband has has traditionally managed to seize the political agenda with his big party conference speeches. This year's will be the biggest of his leadership.