Ed Sheeran has found himself in the middle of another plagiarism lawsuit following accusations he has ripped-off the legendary Marvin Gaye. The family of Ed Townsend, who co-wrote Gaye's 1973 classic Let's Get It On, claims the "heart" of the song was copied and used in Sheeran's 2014 ballad Thinking Out Loud.
It is the second time in two years that a musician stands accused of plagiarising a Marvin Gaye song – what does this mean for the music industry?
In March 2015, a US jury ruled that Robin Thicke and Pharrell Williams did rip-off Gaye's 1977 track Got To Give It Up for their 2013 chart-topper Blurred Lines. Gaye's family were awarded $7.3m (£5.5m) in damages setting a "horrible precedent" for musical creativity, according to Thicke and Williams' lawyer at the time.
Since that historic ruling, several plagiarism cases involving high-profile musicians have hit the headlines but these type of accusations are not a new notion in the music industry. Music lawyer Robert Horsfall, of Sound Advice, told IBTimes UK at IMS Malta 2016 in June: "There have always been these cases and there always will be. Blurred Lines was unique.
"The court decided one way that people would have their own opinions on it and I happened to be a Marvin Gaye fan – do I think that was a rip-off of Marvin Gaye? Not necessarily. It's paying homage to a feel and mood in the music. The jury decided that particular way and Led Zeppelin went the other way. If there are two to five court cases each year, that's just a drop in the ocean compared to all the other stuff that's being argued about that doesn't end up in court."
Led Zeppelin were certainly another standout case. The iconic British rock band were accused of ripping-off their 1971 classic Stairway To Heaven. Many did not expect the case to go to trial but band members Robert Plant and Jimmy Page testified on the stand arguing that they did not copy Spirit's song Taurus. Following a week-long trial, the jury swayed in favour of the rockers and Led Zeppelin won.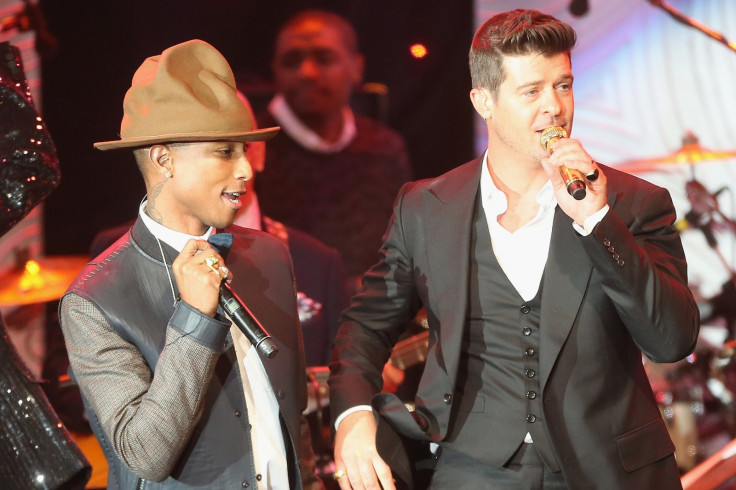 However, Horsfall says musicians accused of plagiarism or copyright should avoid testifying in court where possible. The lawyer explains: "The Robin Thicke case became this huge story because Robin and Pharrell were put into the witness box. Whenever an artist is put into the witness box, the press and the public have this insatiable appetite to talk about it. Our advice to clients is always try to avoid a court hearing."
He adds: "There's this strong, compelling reason not to wash your dirty laundry in public. Most cases settle – 99.9% of plagiarism cases settle with a commercial deal being done."
Citing Sam Smith's case in 2015 when it was claimed his Grammy-nominated ballad Stay With Me bore strong similarities to Tom Petty's I Won't Back Down, Horsfall said: "Famously last year, Sam Smith was accused of plagiarising a Tom Petty song. It was talked about and a deal was done very quickly between all relevant parties. It was settled, a press release was put out and it went away."
Listen to Ed Sheeran's Thinking Out Loud:
It is believed to be the second time that Sheeran, 25, has been thrown into the midst of a plagiarism lawsuit. In June 2016, songwriters Martin Harrington and Thomas Leonard claimed the composition of their 2009 song Amazing, released by X Factor Matt Cardle in 2012, was used for Sheeran's 2015 single Photograph.
Reiterating the continued threat that plagiarism cases pose to musicians and the industry, Horsfall stated: "I've been a lawyer now for 30 odd years and a phrase was thrown to me at the beginning of my career and is still repeated today: 'Where there's a hit, there's a writ'.
"That's always been the case and will continue to be. George Harrison's song My Sweet Lord was accused of plagiarising a song by The Chiffons called He's So Fine in the 1960s. A publisher friend of mine predicts there will be more cases rather than less in the coming years."
Listen to Marvin Gaye's Let's Get It On:
*Horsfall specialises in music contracts but kindly commented on plagiarism and copyright lawsuits.