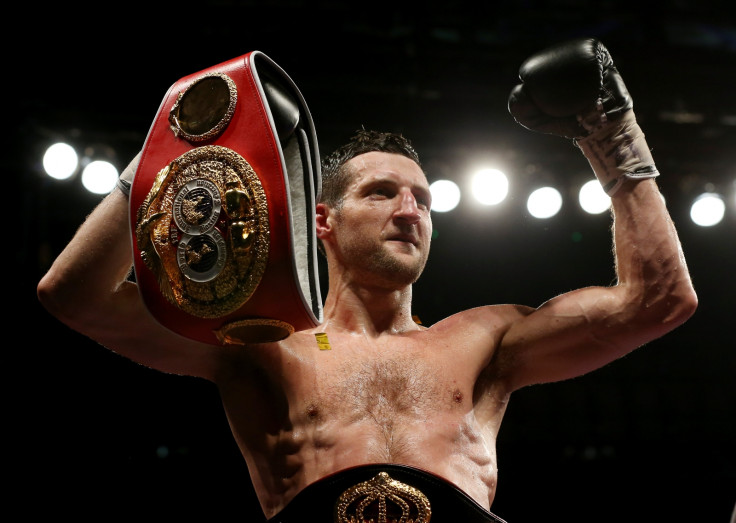 Boxing promoter Eddie Hearn believes that any second bout between Andre Ward and Carl Froch should be held in Nottingham, adding that he is confident that the latter will also go onto fight undefeated Kazakh Gennady Golovkin.
Veteran super-middleweight Froch was previously rumoured to be considering retirement following his explosive Wembley victory over nemesis George Groves in May 2014, with a lucrative Las Vegas bout against Julio Cesar Chavez Junior lined up as a potentially glorious and fitting last hurrah for the four-time world champion.
An elbow injury suffered by 'The Cobra' during training in January put paid to hopes of that particular fight, however, and now the World Boxing Association (WBA) have mandated Ward and Froch to battle it out for a second time with both men holding different variations of the WBA super-middleweight title.
American Ward, who comfortably defeated Froch on points when the pair first met in Atlantic City four years ago, reacted poorly to suggestions earlier this week that he should leave home comforts behind and travel to the United Kingdom for the rematch.
Hearn, though, believes that Ward's lack of meaningful action in recent years means he should not get to dictate the location of the fight, taking a further shot at the 31-year-old by insisting that he is no longer a big draw in his home country.
"I think Carl feels that at this point, with Ward being out for nearly two years and with the ability to bring the fight to the UK, it's a great chance to beat him – maybe the best chance he'll ever have," he told Sky Sports.
"What does Ward bring at the moment? Unfortunately Carl dictates everything in this fight. Andre Ward is a brilliant fighter, pound-for-pound arguably the best in the world but because of his promotional disputes and inactivity, he really doesn't carry the draw in the US. At all.
"People said to me Carl is looking for his Vegas fight so why not fight Ward in Vegas? Two reasons – one it is not that big a fight in America. Two – if Carl Froch is going to beat Andre Ward, we want to have as many advantages as possible.
"Carl is very, very difficult to beat in the UK, particularly Nottingham. The atmosphere would be electric and it would be a very, very tough night for Andre Ward. So if we do get this fight in the UK, it is the place it has to be."
The two parties have until April to agree a deal, although at this stage it looks like negotiations are in danger of stagnating if neither fighter can agree on a suitable location.
In a slightly more surprising twist, Hearn also positively addressed the prospect of Froch going head-to-head with the fearsome Golovkin, a notoriously big-hitter who was lauded after his dominant 11th-round victory over the brave Martin Murray in Monte Carlo last month.
"Him and Rob McCracken (Froch's trainer) will take that fight no problem at all – one day when that fight is dual pay-per-view, and by that I mean it is box office over in the States and over here – and the price is right," said Hearn.
"It is a high-risk fight, then I believe you will see that happening at the end of the year [or] early next year. I am confident Carl Froch will fight him. When you talk about Golovkin, Carl Froch has the curiosity to fight Golovkin because no-one knows how good he really is. We know he's very good but is he exceptional? Can he handle it at 168lbs?
"Can he handle it when he's fighting someone who's got a granite chin landing shots back, and is much bigger? So that fascinates Carl, and he wants to find out the answer but the only way to find that out is in the ring."
Supporters of Froch, though no doubt intrigued by the possibility of seeing Golovkin pitting his unbeaten record against one of boxing's most experienced names, may question why the Englishman would take on the risk of such a fight so late in his career when the ambition will surely be to ensure that he is able to exit the sport on a high.