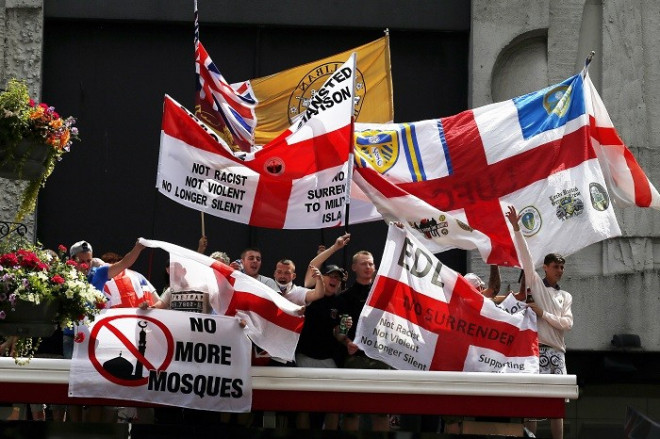 Angry English Defence League supporters have been banned from boozing at an upcoming protest by the far-right group.
Organisers of the upcoming demonstration in Peterborough applied the ban in what looks like a bid to cut ugly scenes of drunken thuggery for which the anti-Islam movement is notorious.
Drunkenness and disorder – including urination in the street and clashes with police - have scarred towns previously visited by the EDL.
But it remains to be seen whether banning alcohol during the march through Peterborough town centre will be enough for the group to shed its violent image.
In fact the official rendezvous point for this event is located inside a pub - a potential hammer blow to any hopes of a dry demo.
Nor was the booze ban enough to deter local police from organising a heavy presence to greet the protest.
Officers from 11 forces are being drafted in from around the country to aid the policing effort by Cambridgeshire constabulary.
A march route has been mapped out and EDL supporters face being as closely managed as ever to try and avoid clashes.
The EDL demo in Peterborough is scheduled at the end of a week in which four Asian men from the city stood trial for allegedly being members of a paedophile sex ring.
Yasir Ali, 28, Mohammed Aslam, 23, Daaim Ashraf, 19, and Akash Yasin, 18, are accused of grooming and sexually abusing eight 14-year-old girls.
It is the second sex ring case to hit the city in months, after five men were convicted of similar crimes in January. The two cases are not connected.
Confidence appeared high at the local council that the EDL march will not cause significant disruption this weekend.
Chief Executive Gillian Beasley said: "Peterborough has strong and united communities, which we are proud of.
"Our aim is to make sure this demonstration causes the minimum disruption possible to Peterborough.
"We are working closely with the police so that it can be business as usual before, during and after the protest.
"The city centre will be open and I encourage people to visit as they would on any other Saturday."