EDL Leader Tommy Robinson: Help for Heroes Charity Snub 'PC Gone Mad'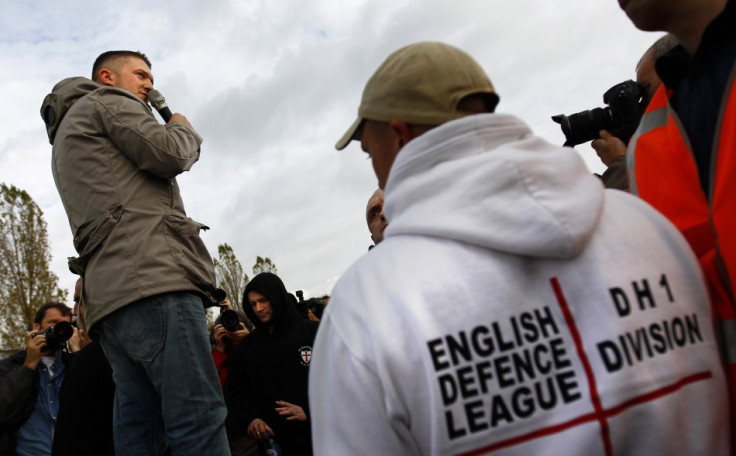 English Defence League leader Tommy Robinson has blamed political correctness for a refusal by the Help for Heroes charity to accept cash from the anti-Islamic group.
Robinson, whose real name is Stephen Lennon, took to the airwaves to denounce the decision by the charity which raises money for wounded service personnel.
Army drummer Lee Rigby was wearing a Help for Heroes T-shirt when he was attacked and killed on the street in Woolwich, southeast London, by two suspected Islamist extremists.
The charity announced its decision to turn down donations from the EDL because it was a political organisation.
Robinson told BBC Three Counties Radio: "People are angry about that [the charity's move]. It adds to the political correctness, which has gone mad in this country.
"Muslim organisations and far-left organisations have been inundating and harassing them for days about this," he claimed.
Robinson has raised more than £3,000 in pledges for a 17-mile sponsored walk across London, which would finish with the laying of a wreath in Woolwich.
Lennon said he was "gutted" by Help for Heroes' decision but would go ahead with the fundraising event as planned.
A spokesman for the charity denied that the organisation under pressure to turn down the organisation, IBTimes UK was told.
"Help for Heroes is a non-political organisation," the charity said. "Working with the assistance of JustGiving, we closed down a fundraising account which we believe the English Defence League intended to use to donate money to H4H.
"We acted swiftly to achieve this, and would like to make it clear that we will not accept donations from organisations who attempt to use Help for Heroes to promote their own political agenda.
"Like everyone, we were shocked by the murder in Woolwich. Like everyone, we just want to help our wounded servicemen, women, veterans and their families. We hope that everyone who cares passionately about this important issue shows that support in a unified and dignified way."
In the wake of Rigby's killing in broad daylight, Help for Heroes' website crashed under a surge of people flocking to give money.
© Copyright IBTimes 2023. All rights reserved.