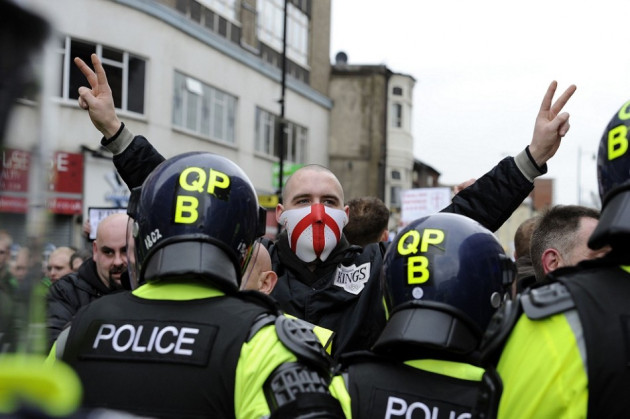 A planned far-right march in the heart of multi-cultural east London has been banned.
The Home Office gave the Metropolitan Police permission to prevent the English Defence League from holding a demonstration in Walthamstow this weekend.
The demonstration was to have been a repeat march by the EDL. The initial march, which took place in September, provoked angry clashes and outbreaks of violence involving anti-fascist protesters.
Minister for policing Damian Green took the decision. He said:
"Having carefully considered the legal tests and balanced rights to protest against the need to ensure local communities and property are protected, I have given my consent to a ban on all marches in Waltham Forest and three nearby boroughs for a 30-day period.
"I know the Metropolitan Police are committed to using their powers to ensure communities and properties are protected."
Police in Waltham Forest, the borough in which Walthamstow is located, were initially reluctant to seek to ban the EDL from holding a second march in as many months. However the Town Hall subsequently garnered more than 3,000 signatures in a petition calling for a ban, compelling the police to change their stance.
The EDL's plans for the Walthamstow march were disrupted by the absence of several key figures within the organisation. Leader Tommy Robinson, real name Stephen Lennon, was remanded in prison following his arrest last weekend on suspicion of illegally entering the United States.
Co-founder Kevin Carroll was also thought unlikely to attend. A source said he wanted to focus on representing the EDL's political wing, the British Freedom Party, and being elected to the position of Police and Crime Commissioner in Luton - recently the scene of violence between radical islamists and members of the EDL.