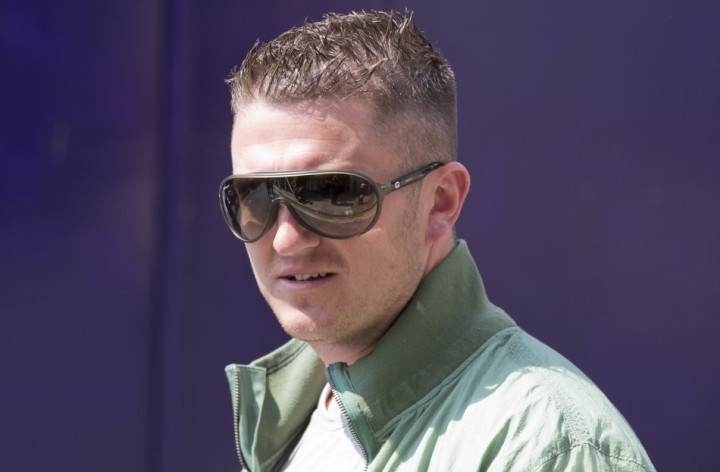 English Defence League leader Tommy Robinson said the fire at a mosque in north London was started by Muslims to smear the EDL.
In a Radio 4 interview Robinson, real name Stephen Lennon, called fundamentalist Islam the "other side of the coin" to Nazism.
He also called for halal meat to be banned and for a moratorium on mosque building in Britain.
In the wake of his appearance on the breakfast show, the BBC was criticised for letting Robinson on the airwaves and for the supposed gentle tone of interviewer Sarah Montague.
Robinson claimed he "utterly condemned" acts of violence such as the fire at an Islamic centre in Muswell Hill. "EDL" was scrawled on a wall of the building.
"If someone set fire to something and wrote David Cameron on the side, does that mean he did it?" he asked.
"I think everyone can see through it - that it was done to make it look like the EDL. I'm sceptical that it's even non-Muslims who did that.
"Our tactics are completely questionable [sic] and I understand [people] who say you're going about it the wrong way, but what choice do we have as working-class people. As soon as you put your head above the parapet you're called a racist or a fascist?
"Who wants to sit down and talk to us? We all hear people have got to sit round tables, but nobody wants to sit down with working class people in this country, with the EDL."
Robinson went on to declare the EDL was on a mission to "wake the British public up."
He said: "The sects we don't agree with are the Saudi-funded ones. Remember Saudi Arabia's the only country where it's illegal to have a Bible, women are not allowed to drive cars. There's complete apartheid.
"They are funding forms of Islam which are completely extreme. They teach and promote non-integration."
Two sides of the same coin
Photographs taken at EDL marches show supporters of the group making Nazi salutes but Robinson denied there were Nazis within the organisation.
"There's no Nazis in the EDL. Islamism and Nazism are different sides of the same coin - they both need defeating."
Robinson's appearance on Radio 4 was condemned by critics who accused the BBC of giving publicity to a right-wing extremist.
Former Labour MP Denis McShane tweeted: "Now Today provides non-critical platform for EDL. Has she [Montague] ever seen them close up? Heard their racist insults? Violence threats?
"Sorry, forgot EDL is a gentle, peace-loving, outfit. Every time I saw fascist thugs screaming abuse at non-white citizens it wasn't EDL."