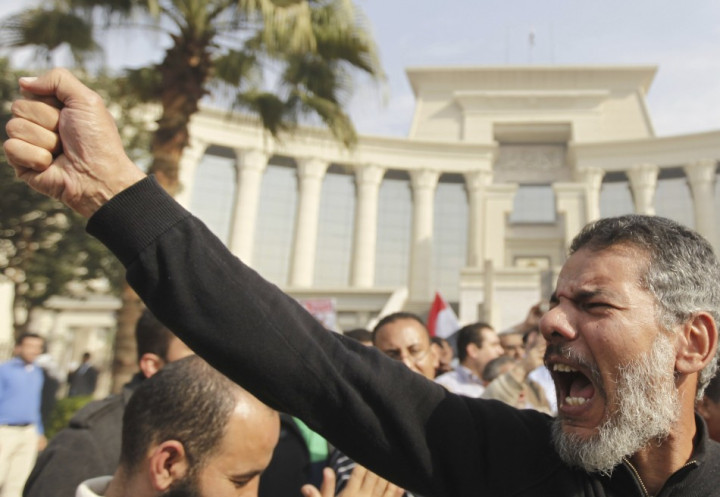 Egypt's judiciary is set to boycott the referendum announced by President Mohammed Mursi over the latest draft constitution.
The Judges' Club announced its decision, along with an indefinite strike, during an escalating confrontation between Mursi's supporters and the Supreme Constitutional Court.
The court said it had decided to condemn the "lies" percolated by Mursi's supporters to "taint the court's image."
Judges' Club president Ahmed al-Zind said: "We have decided to boycott the supervision of the referendum on the constitution scheduled for December 15, 2012. This protest is in response to what is being called the 'constitutional decree' and until this decree is rescinded."
In Egypt, the judiciary usually supervises any voting process. Nevertheless, the judges in the country are not legally bound to obey the Judges Club's decisions. Vice President Mahmoud Mekky has expressed confidence that judges will go ahead with their jobs during the referendum.
Contrasting reactions
In a fresh call, Egyptian president Mursi has once again invited opposition groups for a dialogue over the snowballing conflict surrounding the draft constitution.
Urging the opposition forces to help in Egypt's transition period, the presidential spokesperson Yasser Ali said in his state television address, "If the Egyptian public approves the draft constitution, all constitutional declarations issued since 19 March until now will be rendered invalid."
Ali also stressed that Mursi is committed to working with the judiciary, having held dialogue with the country's top judges three times in the last five months.
On the other hand, opposing political groups and activists have called for another round of mass protests against Mursi, condemming the president's decision to hold a referendum without widespread support from his people.
"The National Salvation Front condemns the irresponsible act by the president of the republic in calling a referendum on an illegitimate constitution that is rejected by a large section of his people," said the group's statement.
Nearly 20 political and activist groups have pledged to join the protest. However on Tuesday, the groups have decided to march ahead to the Mursi presidential palace itself instead of the usual Tahrir Square rallying point in capital Cairo. The rally has been dubbed as the 'Final Warning.'
"The draft that Mursi wants to hold a referendum on is actually a project to restrain the political, civil, social and political rights and freedoms of Egyptians. It falsely divides the country into two camps; one with legitimacy and religion and the other against it," said a statement jointly released by the opposition groups.