Days after a fake bomber hijacked an EgyptAir plane to be closer to his ex-wife in Cyprus, the personal stories of passengers on board are emerging. Among them is the story of a man who allegedly called his wife to tell her about secret money that he had been hiding.
The incident was recounted by a fellow passenger, AbdAllah El Ashmawy, in a Facebook post on 30 March. Ashmawy explained that while it was a "very painful experience", it was the passengers on board who made his day with their stories.
Ashmawy narrated the story of one man: "[A] funny husband calling his wife to tell her about some money he was hiding in a bank and the funniest part is his wife forgetting about the hijack thing and asking him to repeat the bank name."
He also wrote about another obviously very tired passenger who managed to sleep through the hijacking and was only awoken when they were landing in Cyprus. According to Ashmawy, the sleeping man was more distressed about missing his connecting flight.
Ashmawry wrote: "[He] woke up to be informed we are landing in Cyprus and his funny response was 'Why Cyprus?! I will miss my connection.'"
British oil worker Ben Innes hit the headlines when he requested a photo with Seif Eldin Mustafa, who was wearing what was feared to be an explosives vest.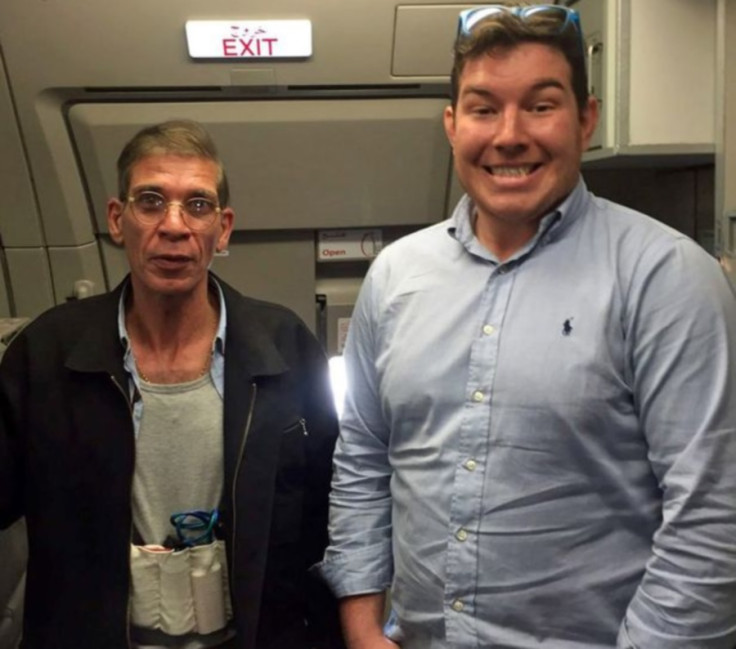 He told The Sun: "I figured if his bomb was real I'd nothing to lose anyway, so took a chance to get a closer look at it. I got one of the cabin crew to translate for me and asked him if I could do a selfie with him. He just shrugged OK so I stood by him and smiled for the camera while a stewardess did the snap. It has to be the best selfie ever."
Ben also texted pals: "You know your boy doesn't f*** about. Turn on the news lad" along with the picture just moments after the siege had ended. Security experts have slammed the 'highly irresponsible' snap which they say could have inflamed a volatile situation.
Seif el-Din Mustafa hijacked the A320 EgyptAir flight to Cyprus as it was flying from Alexandria to Cairo on 29 March. He had demanded to see his former Cypriot wife and be granted political asylum. He was finally arrested after a peaceful resolution of the hostage crisis.
Passenger Ashmawy said that it was a day he would "never forget" and commended the EgyptAir crew for the way that they handled the situation on board. He said: "Egypt airlines crew... tried as much as possible to calm all the passengers, especially the female flight attendants who managed to keep a smile through the flight. I can see one of them crying at her front seat but once she stands up again she keeps her smile just to calm people."
Cypriot officials have described Mustafa as having been "incoherent" and "mentally unstable". The hijacker was previously convictedof forgery and false impersonation.