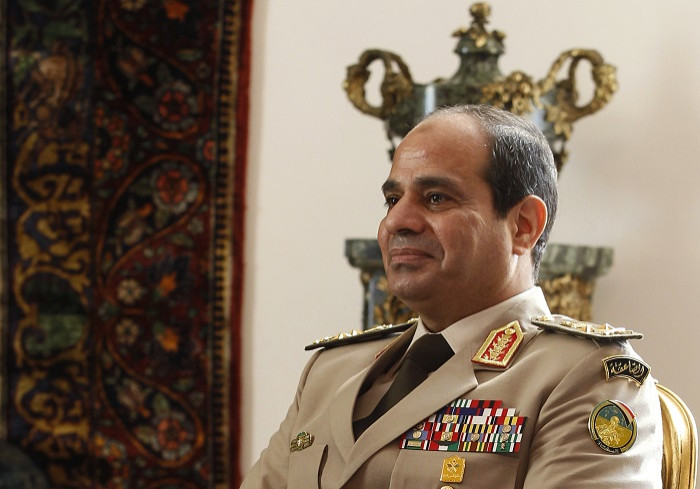 Egypt's military leaders have unveiled a set of devices they claim can detect and cure HIV, hepatitis and other viruses.
Major-General Taher Abdullah, head of the engineering agency in the armed forces, revealed what he called the "miraculous scientific invention" in a televised press conference attended by the interim president Adly Mansour.
Abdullah presented two devices, named C-Fast and I-Fast, which he said uses electromagnetism to diagnose Aids, hepatitis C and swine flu without taking blood samples. He also unveiled a device called Complete Cure, which is a blood dialysis unit that allegedly treats the infections.
In a video presentation of C-Fast, which reportedly uses bomb detection technology, physician Major-General Ibrahim Abdel-Atti tells a patient: "All the results are great, showing you had Aids but you were cured. Thank God."
Explaining the process, Abdel-Atti said: "I take Aids from the patient [and] I nourish the patient on it. I give it to him as a kofta skewer to feed on."
The claims were widely ridiculed by the international scientific community and labelled a "scientific scandal" by Essam Heggy, the Egyptian president's scientific adviser.
"What has been said and published by the armed forces harms the image of scientists and science in Egypt," Heggy told the daily newspaper El-Watan. "All scientists inside and outside Egypt are in a state of shock."
Heggy added that Mansour and Egypt's defence minister General Abdel Fatah el-Sisi were both surprised by the presentation, and maintained that their presence in the audience did not mean they approved of the comments.
Professor Massimo Pinzani, a liver specialist and director of the Institute for Liver and Digestive Health at University College London, said he attended a demonstration of the devices during a visit to Egypt and was not convinced by the explanations provided about the technology employed.