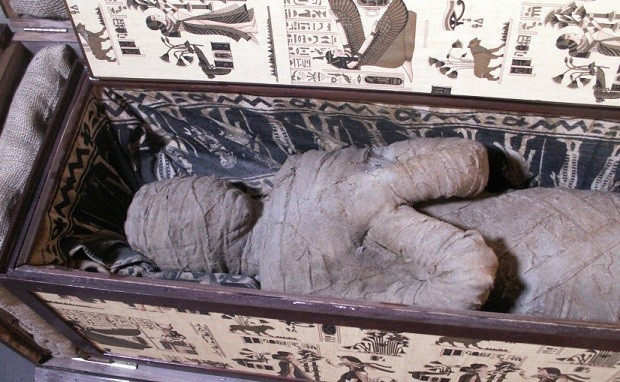 German police and forensic experts have been left mystified following examination of an Egyptian-style mummy discovered by a German boy in his grandmother's attic.
Many believed the mummy, discovered by 10-year-old Alexander Kettler inside a sarcophagus complete with hieroglyphic inscriptions, was a fake. It was found in August at the boy's grandmother's house in Diepholz, northern Germany.
However, X-ray and CT scans have now revealed a relatively intact skeleton wrapped up inside the bandages, including a well-preserved human skull with an arrow sticking out of the left eye socket.
To further add to the mystery, examinations also show a metal layer covering the bones of the skeleton and the cotton used to wrap the body dates from the 20th century and are machine-woven.
The bandages have not been removed for fear of damaging the remains. A death mask was also discovered inside the sarcophagus.
German police, prosecutors and forensics experts are now facing a genuine mystery as to the origins of the body.
Pathologist Andreas Nerlich of Munich's Bogenhausen hospital told Spiegel Online: "There's no way this is a typical Egyptian mummy. We're dealing with an imitation.
"But a human body, and perhaps more than one, were used to make it."
Experts are also baffled by the metal which is covering the skeleton.
"Someone went to a lot of trouble to wrap the bones in this covering," Nerlich added. "Perhaps because they anticipated an X-Ray examination, because this is definitely a hindrance."
Police are now waiting to see how old the bones are before deciding to launch an investigation.
Jann Scheerer, spokesman for the Verden public prosecutor's office, said: "If it turns out that the death occurred 3,000 years ago, then we won't pursue the case any further.
"But we will if the person responsible for the obviously violent death could still be alive."
It has been suggested the 10-year-old's grandfather, who died 12 years ago, may have brought the body back from North Africa as a gruesome souvenir when he travelled there in the 1950s.