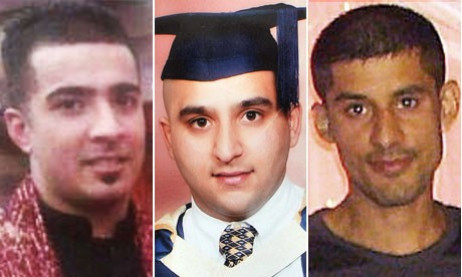 Eight men have been found not guilty of murdering three friends who were struck down by a car during the 2011 riots in Birmingham.
Haroon Jahan, 20, and brothers Shazad Ali, 30, and Abdul Musavir, 31, died on 10 August after being hit by a car while they were trying to protect their homes and businesses in the Winson Green area as riots raged nearby.
Ryan Goodwin, 21, Shaun Flynn 26, Ian Beckford, 30, Juan Ruiz-Gaviria, 31, Adam King, 24, Joshua Donald, 27, Everton Graham, 30 , and Aaron Parkins, 18, denied planning the deaths of the men in a coordinated attack described in court as a modern-day "chariot charge" of three cars.
They were all found not guilty on three counts of murder by a jury at Birmingham crown court after a three-month trial.
The victims were part of a group of 80 men who had gathered to protect their businesses on Dudley Road. It was alleged by the prosecution that the defendants lured the victims on to the road where they were hit by a car.
The three men were taken to nearby City Hospital and died of their injuries in the early hours of 10 August.
Judge Justice Flaux said after the verdict was givem: "On any view this has been a terrible case - a tragic and pointless loss of three young lives.
"However, by their verdicts the jury have decided that this was not a deliberate killing, that there was no plan to kill these three young men.
"The jury have decided that this was a terrible accident."
He added: "It is important that, however strong feelings are within the community in Winson Green and adjacent areas, calm is maintained and that these verdicts are respected.
"Any other action would not be honouring those who died. In fact quite the reverse.
"What happened on the streets of Birmingham and other cities last August should never be repeated."