Mexican Police have arrested 13 more suspects, including top serving and former prison officials, over the prison break of the notorious drugs lord Joaquin 'El Chapo' Guzman. Mexico's former head of federal prisons was among the new arrests according to reports from the country.
Guzman is head of the notorious Sinaloa Cartel, and is sometimes referred to as the world's most influential drug lord. He escaped from the maximum security Altiplano prison – officially called, Federal Social Readaptation Center No. 1 – on July 11 through a hole in a shower, which led to a mile-long tunnel equipped with a modified motorcycle, lighting and ventilation. He has not been spotted since.
Reportedly the drug lord disappeared out of the sight of a surveillance camera watching him whilst he was showering. It took guards 18 minutes to arrive at his cell and it was nearly another 30 minutes before alerts were made that he had escaped.
Prison break-out assistance
Investigators say that Guzman must have had assistance from high-level prison sources to pull off his elaborate jailbreak. A total of 20 officials have now been arrested in connection with his escape, which has included various levels of seniority within the prison system.
Valentín Cárdenas Lerma, the former director of Altiplano, and Celina Oseguera, former director of Mexico's federal prisons, were arrested on Friday, according to CNN. Both Oseguera and Cárdenas were removed from their positions shortly after Guzman escaped.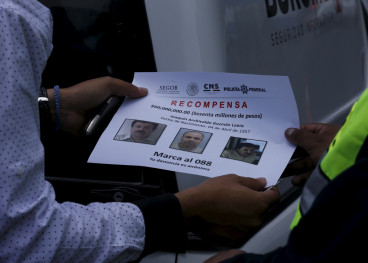 Six days after the escape, seven prison workers were charged and four officials, including two members of Centro de Investigación y Seguridad Nacional, CISEN, Mexico's intelligence agency, were charged for their alleged roles in the jailbreak.
Mexico's major narcotics supplier
The Sinaloa Cartel is blamed for most of Mexico's trafficking of heroin, cocaine, and marijuana to the US.
The Altiplano escape was Guzman's second breakout from a maximum security prison. He escaped jail in 2001, and it took Mexican law enforcement 13 years to catch up with him.
Guzman was jailed for just 18 months before his latest escape. There is a $3.8m reward for information leading to his arrest.
Both Guzman and his son, Alfredo Guzman, 29, have taken to social media to taunt police officers and Mexico's President Enrique Peña Nieto. Forbes magazine once estimated Guzman's fortune at $1bn.