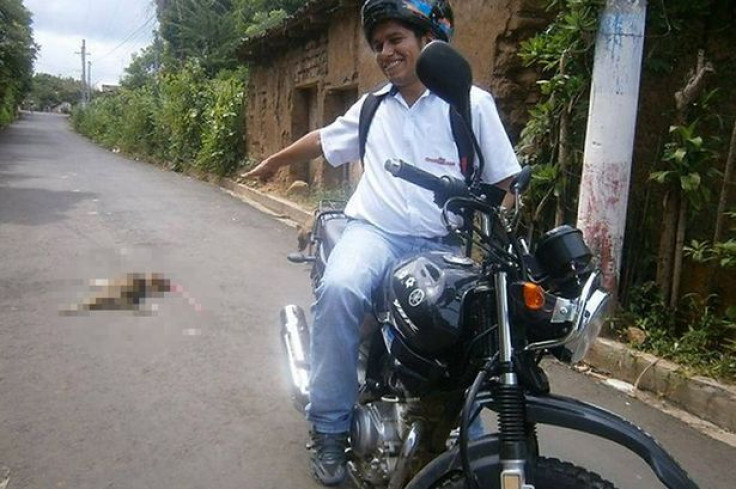 An El Salvador man ignited an internet storm by posting a photo of himself grinning and pointing at a dead dog in the road.
Roby Ortiz Magana became public enemy number one online after animal lovers reacted furiously to the image (above), which was posted in an online petition.
The photo, which shows Magana sitting on a motorcycle and smiling as he points at the dead dog, led many viewers to believe he ran it over.
The image appeared online in a web petition created by animal lover Liz Robertson. She insisted: "He is an animal abuser and must be punished for his deeds."
Magana, who reportedly hails from a town called Ahuachapan in the central American country, has denied he killed the animal with his motorbike, claiming the dog was dead when he found it.
But he was swiftly condemned as guilty by web users. Calls were made online for him to be "killed with fire," "run over" or suffer other barbaric execution methods.
Magana shut down his social media accounts in response to the tidal wave of web hate which hit him in the wake of the photo. The online petition which stemmed from the initial image was also pulled down in the face of the controversy.
According to Robertson, Magana contacted her personally. "He says the dog passed away after being hit by a car" she revealed.
"He is only guilty of taking a picture of him laughing at the lifeless dog and posting it on Facebook. Trying to be a smarthead turned out bad for him."