When it comes to elections, celebrity endorsement has always been relatively common in the US, with famous faces often publicly campaigning for specific candidates and openly talking about who they want voted into office. In the UK, though, elections are not such a star-studded affair. But that does not mean political parties do not use their backing to encourage votes on their side, from time to time.
Celebrity support has been seen in the run-up in the 2015 general election in many platforms, from political broadcasts to verified tweets, so IBTimes UK takes a look at who is backing who in the run-up to polling day on 7 May.
Conservatives
He may have created ITV hit show Downton Abbey but Julian Fellowes is also a Conservative member of the House of Lords. Used to penning screenplays, the Oscar-winning writer even used to pen speeches for ex-Tory leader Iain Duncan Smith.
Simon Cowell first announced his support of the Conservative party to the public around the UK general election in 2010. Writing in The Sun, the Britain's Got Talent boss stated he believed leader David Cameron was "a man of substance" with "the stomach to navigate us through difficult times".
Composer Lord Andrew Lloyd Webber and horse-racing pundit John McCririck have long been supporters of the Toriesy, alongside Vinnie Jones, Lulu, Paul Daniels, and The Apprentice's Luisa Zissman and Karren Brady.
Labour
The Hobbit actor Martin Freeman was recently seen in an election broadcast created in support of Ed Miliband and the Labour Party, where he stated to camera that the opposing Conservative party will take the UK on "on a rollercoaster of cuts" and that they have "sod all to offer the young".
The video is ended with a voice-over from a fellow Miliband supporter, former Doctor Who star David Tennant, claiming: "This election is a choice between the Tories' failing plan and Labour's better plan for working families." He concludes the video by saying: "Britain succeeds when working people succeed. Vote Labour."
Comedians Jo Brand and Steve Coogan have also featured in political messages from the Labour party.
Actor-turned-activist Russell Brand recently spoke publicly to party leader Miliband in an interview that persuaded him from not voting at all to voting Labour. He urged his fans to do the same, claiming "this bloke will listen to us" and that is was important to stop rival party Conservatives from getting into power.
Other celebrity supporters of the Labour party include JK Rowling, Jason Isaacs, Mathew Horne, Delia Smith and Paul O'Grady.
Liberal Democrats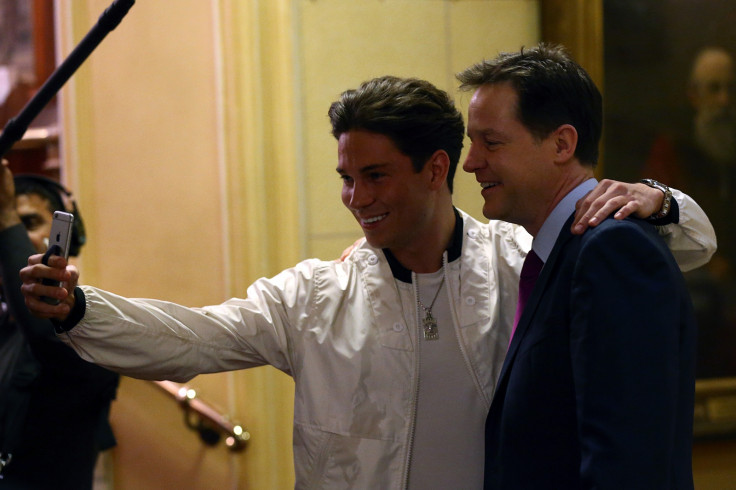 In a recent programme for ITV2, Towie star Joey Essex accompanied Nick Clegg for part of his campaign tour around the UK. The one-off special, which airs on 5 May will see Essex meet and interview Miliband, Clegg and Ukip leader Nigel Farage.
The reality show is meant to shed some light on the party's policies while also helping Essex decide who he should vote for. While the verdict on who he prefers might not be revealed until the episode airs this evening, Essex instead has openly said he thinks Clegg has the sharpest clothes among the three MPs.
"Nick Clegg is probably the best dressed," Essex tells the cameras, "He has a different colour tie to his suit, which is a start. [And he] loves a selfie."
Past supporters of the party did include Colin Firth, Daniel Radcliffe and Kate Winslet but all three have withdrawn their support for Clegg due to disagreements with the party's policies. Firth, who once accompanied Clegg on his campaigns, publicly denounced his involvement with the party when it ignored its promise of not increasing tuition fees.
The Kingsman: Secret Service star stated: "I think it is profoundly disillusioning if you are a student who registered to vote simply because of what the Liberal Democrats were promising and what they had to say about tuition fees and things. It is one of the reasons I went in that direction."
Scottish National Party
Manhunter star Brian Cox actually quit being a Labour supporter in January and announced he was a believer in the Scottish National Party that same month. He is said to have made the switch because he thinks the SNP is the only party "taking forward the values of social justice". An action he believes Labour wase not succeeding with.
The party was thrilled to have the Scottish actor as a supporter in its campaign. SNP member Joe FitzPatrick even stated: "Brian Cox joining the SNP is a fabulous endorsement for the party – his deep-held beliefs and passion for social justice are well known, and it is an honour to have such a talented and internationally celebrated actor as a member."
Fellow Scotsman Martin Compston has said he thinks SNP is the party for young Scots. The Monarch Of The Glen actor aired his support by condemning the other parties. He said: "Labour, the Lib Dems and the Tories all have a track record of broken promises: introducing fees of thousands of pounds a year south of the border and failing to protect young Scots from the worst impacts of Tory cuts. Only the SNP can be trusted to stand up for Scotland's young people."
Ukip
Back in 2013, TV sports presenter Des Lynam recorded himself singing his support for the UK Independence Party to the song of Send In The Clowns after Conservative members mocked Ukip as a bunch of fruitcakes, loonies, waifs and strays.
Jamie Oliver is also said to be interested in what Farage has to offer, saying he was a fan of the way the leader was "stirring things up". He stated: "They have got my interest, and I will listen to them."
Interestingly, Sir Tim Rice – a frequent collaborator with Conservative supporter Lord Andrew Lloyd Webber – has donated money towards Ukip's campaigns. He is understood to have given around £7,500 to the party in 2014 after being disappointed with the way his favoured party at the time, the Conservatives, was operating. But when asked about the publicly discussed donation, Rice was hesitant to confirm his financial involvement.
Another celebrity who lent their famous face to Ukip is Joan Collins, who became the patron of the party back in 2004. But despite her letting the party use her name in its bid to gain more followers, the actress claims that does not automatically mean she is going to vote for them.
The late amateur astronomer, Sir Patrick Moore, was very open about his support for Ukip often featuring in the party's video campaigns from 2006-09.
Other famous faces who openly support Ukip are radio DJ Mike Read, Queens Park Rangers footballer Joey Barton and television personality Rustie Lee.