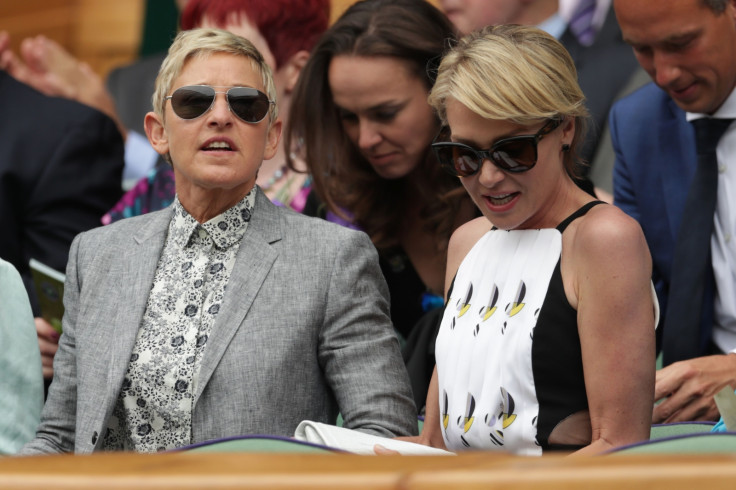 She was spotted in the royal box on several occasions at Wimbledon 2016, and now US chat show host Ellen DeGeneres has claimed that she is related to the Duchess of Cambridge.
The television presenter and comedienne is doing her rounds in the UK as she promotes her new film, Finding Dory, and dropped the bombshell that she is a distant cousin of Kate Middleton on Tuesday morning's (12 July) Lorraine.
The 58-year-old said: "I am related to Kate Middleton. She refuses to acknowledge it. I don't know what's happening but I'm not invited to any of their holidays."
Divulging how she discovered the royal lineage, she continued: "Someone did my charts, the lineage, and she is my 14th cousin twice removed. It's not like three times removed, right?"
DeGeneres, who is married to Portia de Rossi, also revealed that she is related to other big names in celebville, adding: "I'm also related to Halle Berry and Madonna," she continued. "Both of them embrace it, why wouldn't Katie?"
During the televised interview on ITV, DeGeneres also discussed who should be president, referring to US Republican frontrunner Donald Trump as "a nightmare." She told Lorraine: "She must [be President] because the alternative would be a nightmare. We must have Hillary as president or we're all in big trouble.
"I don't know why gender has to play a part in any type of any position. If you're qualified, you should have the job.
"I don't know why someone thinks a woman can't handle that position of power because she [Hillary Clinton] certainly has the experience, she's been in the White House with her husband Bill and he's pretty smart. I don't know why it's a big deal for somebody to say: 'Can a woman do this?'" she added.
When Lorraine asked if Ellen would consider hosting the Oscars for a third time, she said: "Well once I thought was enough because I didn't think I'd do it again, so I said I'd never do it again, so I'd like to say I'll never do it again but I've said that before, but I don't think I will.
"It was a really happy year, everybody there, we had such a good time...It was a fun, fun night and I think we should leave it at that, I don't want to try to top myself."