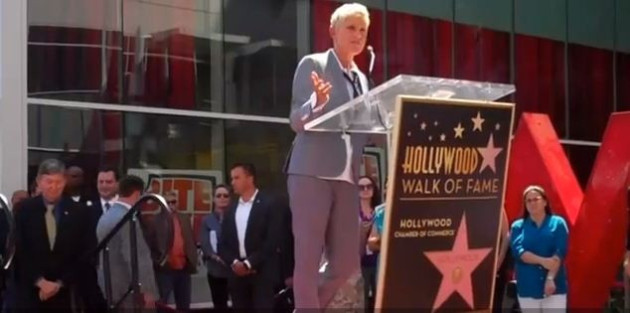 American talk show host and comedian Ellen DeGeneres has been honoured with the 2,477th star on the Hollywood Walk of Fame in Los Angeles.
The 54-year-old, who was accompanied by her wife Portia de Rossi and mother Betty at the ceremony, received it for her active contribution to prime-time television over the past 30 years.
"I'm getting a star on the Hollywood Walk of Fame today at 11am," DeGeneres tweeted, "Come watch me! Also, I'd love a ride home. 6270 Hollywood Blvd."
She also garnered support from comedian and talk show host Jimmy Kimmel and American Idol host Ryan Seacrest, both of whom were present at the event.
"So excited to see fans here to see me get my star on the Walk of Fame! Come down if you can!" she said.
DeGeneres was in typically light-hearted mood as her star was unveiled on the iconic boulevard.
"It is amazing. I spent my entire career trying to conduct myself in a certain way making sure no one walks all over me, only to get to a point where people are going to walk all over me. It means so much to me that everyone showed up," DeGeneres was quoted as saying by E! online.
Kim Kardashian Reveals Walk of Fame Dream
Meanwhile, Kim Kardashian has revealed that she would like to become the first reality TV personality to be awarded a star on the Hollywood Walk of Fame.
The socialite, who is dating rapper Kanye West, became world-famous after a sex tape featuring her and former boyfriend Ray J was leaked online, and subsequently made a career by featuring in her own reality show - Keeping up with the Kardashians.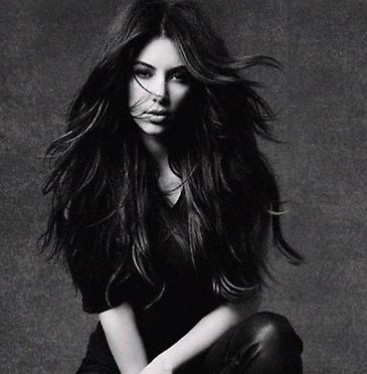 "There was a quote where somebody said that reality stars will never get a star on the Hollywood Walk of Fame. Of course, I'm so competitive that I think that it would be a huge achievement and a goal that anyone would want. I would love to break that mould," she told V magazine.
But it seems that Kardashian's dream won't be fulfilled any time soon.
A spokesperson for the Hollywood Chamber of Commerce said that the reality TV personality needs to have a real acting career to meet the requirements needed for a Walk of Fame star.
A representative of the Walk of Fame told the Hollywood Reporter. "Part of the criteria in being honored is receiving awards such as Emmys, SAG Awards, Oscars etc, in the category of Television, Live Stage Performance or Motion Pictures. They have to have a career in the business of acting for five years or more.
"I can't really say if reality stars will ever be eligible. [It's] not on our radar right now."