The British grandmother of Elliot Rodger has described the 22-year-old as "a very disturbed boy."
The son of an assistant director on The Hunger Games, Rodger has been named by police as the person responsible for a mass shooting that left seven dead, and seven others wounded.
According to local media reports, three more bodies have been removed from Rodger's apartment building in Santa Barbara, California.
Elliot's grandmother, 89, who lives in Kent, explained that he had suffered mental health issues for some time.
"He was a very disturbed boy. He lived in California but of course I'd known him. This is just one of those very tragic things. I don't want to talk about it any more. This is a rather difficult time."
His father, British born film-maker Peter Rodger, has reportedly issued a statement through the family's lawyer, revealing that Elliot had been diagnosed with Asperger's syndrome and was receiving psychiatric care.
They revealed that they had also contacted police about "recent posts on YouTube" by Elliot "regarding suicide and the killing of people".
Police have described the murderous rampage as a "premeditated mass murder" after a video posted by Rodger revealed his plans to "punish" women for rejecting his advances.
Born in Lambeth, south London and the son of an established assistant director, Elliot seemed to live the high life in California, living in a luxury home and mixing with A list stars on the red carpet.
He was photographed at the Hollywood premiere of The Hunger Games, alongside his father, stepmother, and Sylvester Stallone.
However, behind what seemed to be the perfect life, was a desperate loneliness and sexual frustration that it seems lead him to commit a premeditated mass murder.
"I'm 22 years old and I'm still a virgin. I've never even kissed a girl," he said in the chilling video.
"College is the time when everyone experiences those things such as sex and fun and pleasure. But in those years I've had to rot in loneliness. It's not fair. You girls have never been attracted to me. I don't know why you girls aren't attracted to me. But I will punish you all for it."
Eye-witness accounts have revealed a scene of confusion as the gunman sought out his targets.
Tyler Haden, a journalist with the Santa Barbara Independent newspaper, said there was chaos due to the number of fatalities.
"We saw a lot of different emergency responders milling about," he said. "There was a lot of confusion because there were so many different crime scenes."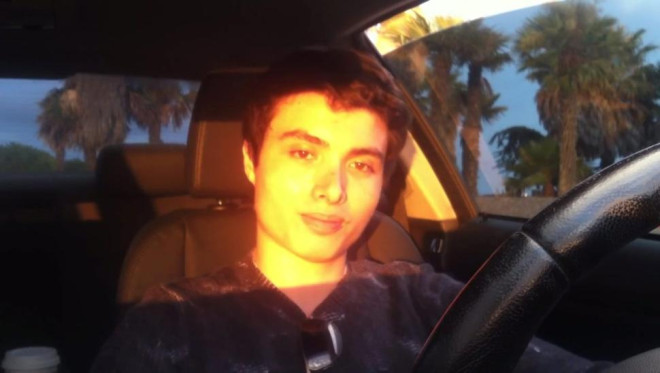 Robert Johnson said the black BMW driven by Rodger slowed down near IV Deli Mart where people were eating outside. The driver then opened fire.
"I heard somewhere between 12 to 20 shots into a group of people who were eating in front of it," Johnson told NBC Los Angeles.
Twenty-year-old student Ian Papa reported that the gunman was driving erratically and knocked down two cyclists.
"He hit two bikes. One he barely grazed. The other was ploughed down. The biker went through the windshield," he said.
Jimmy Chang, a reporter for the UCSB newspaper, told how a female student was directly confronted by Rodger who opened fire on her as she was walking down the street.
"He actually drove across the street to meet her," Chang told NBC Los Angeles. "The guy stuck his head out and says, 'Hey, what are you doing?' She ignored him. The guy pulled out a gun and shot at her. The bullet missed her head. She said she thought it was a BB gun, and she just kept walking faster."
Xavier Mozejewski told KEYT-TV that it was like an "old Western shoot-out".
Police say they were alerted around 9.30pm on Friday.
The virgin shooter had two gun battles with police before crashing into a parked car. He was found slumped in the BMW with a gunshot wound to the head, though it is unclear if it was self-inflicted.