Elon Musk believes the entire United States can be powered by a field of solar panels measuring 100 miles by 100 miles - equivalent to approximately 0.003% of the country's land mass.
Energy captured here, the Tesla and SpaceX boss says, would be stored in a battery measuring one square mile and located, along with the millions of solar panels, in a location with regular sunlight but a low population density, like Nevada, Texas or Utah.
Musk was speaking at the National Governors Association on 15 July, during a discussion called Ahead of The Curve.
He said: "If you wanted to power the entire United States with solar panels, it would take a fairly small corner of Nevada or Texas or Utah; you only need about 100 miles by 100 miles of solar panels to power the entire United States...The batteries you need to store the energy, so ensure you have 24/7 power, is one mile by one mile. One square-mile. That's it."
This claim comes hot on the heels of Tesla announcing plans to build the world's largest lithium-ion battery, to help overcome regular power outages in South Australia. The enormous 100 megawatt battery will be completed before the end of 2017 and store enough energy to light 30,000 homes.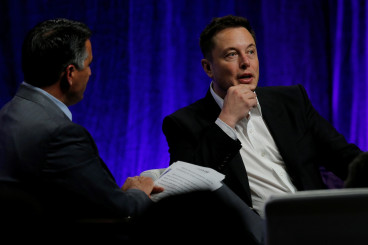 Tesla recently began selling a range of solar roof panels which look like conventional roof tiles and go some way to eradicating the ugly aesthetics of regular panels. Musk says his tiles cost about the same as a newly fitted roof, and can completely power the home they are fitted to. Energy generated can be deployed for lighting and heating, or stored in a Tesla Powerwall fitted outside. Of course, the tiles can also be used to charge Tesla's electric cars.
Cars, it seems, are quickly becoming just one of Tesla's many divisions, and Musk himself said this week how the company's overall objective is "what set of actions can we take the accelerate the advent of sustainable production and consumption of energy?"
Harnessing the power of the sun is how Musk sees "all transport" going fully electric - with the exception of space rockets, which his company SpaceX manufactures to be self-landing.
Musk added: "The Earth is almost entirely solar-powered today, in the sense that the sun is the only thing that keeps us from being at the temperature of cosmic background radiation, which is three degrees above absolute zero [-273 degrees Celsius]. If it wasn't for the sun, we'd be a frozen, dark ice ball. The amount of energy that reaches us from the sun is tremendous. It's the 99%-plus of all energy that Earth has."