On Thursday's (14 December) episode of Emmerdale, Moira Dingle was finally revealed as Emma Barton's killer. But in a surprising turn of events, Moira's son Adam Barton could be heading to prison instead.
For weeks the soap had teased seven murder suspects including Gabby Thomas, Pete Barton, Ross Barton, Adam Barton, Moira Barton, Cain Dingle and Laurel Thomas. But in a dramatic flashback episode last night, Moira (Natalie J Robb), confessed she had pushed Emma off the Hotten Viaduct to her death a few weeks ago.
Emmerdale viewers can expect another plot twist tonight as the police arrest Adam, while his mother Moira remains free.
"The whodunnit surrounding Emma's death has been going on for weeks and months but just as viewers think they've come to a conclusion the rug will be pulled out from under them," The Sun quoted a source as saying.
The insider continued: "Last night they saw Moira confess her crimes, but the police are confident they've got the right suspect in Adam despite the fact it's actually his mother's doing."
The ITV soap bosses finalised the storyline when actor Adam Thomas, who plays Adam Barton, decided to bow out of the show.
Confirming the news, the source added: "This is how Adam will leave the soap to pursue other projects as he goes down for the crime."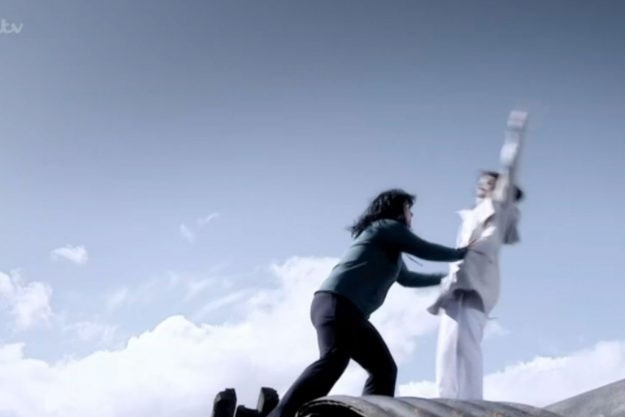 Thomas is said to have left Emmerdale as he wasn't allowed to star in a panto. The actor was reportedly offered £100,000 but the soap producers weren't keen on him juggling two jobs at once.
Some Emmerdale viewers, however, had already predicted the plot twist. A Twitter user wrote: "#Emmerdale Adam exit there he will take the blame for Moira that's how he leave."
Another said: "Adam's exit storyline basically confirmed, he'll find out it's Moira and take the blame for her #Emmerdale."
While a third tweeted: "So does Adam take the fall for Moira then? Is that his exit? #Emmerdale."