Google's new Screen Casting feature found in the beta release of Chromecast v1.7.4 APK is disappointingly limited to a small number of Android devices such as Galaxy S5 and HTC One.
This limitation can now be bypassed using the custom APK tool from senior member of XDA Developers forum, r3pwn.
Android users with rooted devices listed under Tested and Working list can go ahead and enable screen casting on their devices by simply installing the tweaked APK tool from r3pwn.
Compatible Devices (Tested and Working)
Here is the list of Android devices which have been tested and found to be working fine with the new custom APK tool for Chromecast v1.7.4:
ASUS PadFone 2
Droid RAZR MAXX HD
Sony Xperia Z
Sony Xperia Z1
Sony Xperia Z2
Sony Xperia ZL
Sony Z Ultra
HTC Droid DNA
HTC One M8 (Including GPE)
Motorola Moto X
Motorola Moto G
Samsung Note 8 Tab
Samsung Note Pro 12.2 Tab
Nexus 7 2012
Oppo Find 7
Oppo Find 7a
OnePlus One
LG GPad 8.3
LG G2 Mini
NVIDIA SHIELD
Officially supported devices are also 100% compatible with the custom APK tool for Chromecast (see the list below):
Nexus 4
Nexus 5
Nexus 7 (2013)
Nexus 10
Samsung Galaxy S4
Samsung Galaxy S5
Samsung Galaxy Note 3
Samsung Galaxy Note 10 (2014)
HTC One M7
LG G Pro2
LG G2
and LG G3
Mixed Reports (Working Only on Stock Firmware)
Samsung Galaxy S3
Samsung Galaxy Note 2
Tested Not Working
HTC EVO 3D
ASUS PadFone X
Galaxy Nexus
Samsung Galaxy S II
Most older devices (devices older than two years)
Note: If you are using an Android device which was purchased just about a year-and-a half or two years ago, then you have a fair chance that the custom APK tool will work.
If your device qualifies or features in the Compatible Devices section (above), you can proceed with the step-by-step guide provided below.
Pre-requisites
Latest version of Chromecast Companion app
Root access on your Android device (not your Chromecast)
Android 4.4.1 KitKat or higher must be pre-installed on the device
Steps to Enable Screen Casting on Rooted Android Devices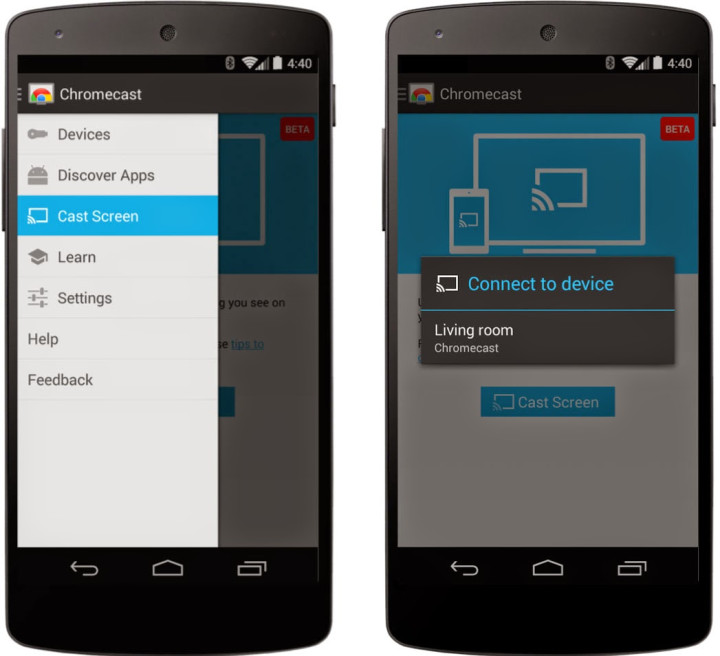 Step 1: Download the APK tool from here.
Step 2: Install the APK.
Step 3: Enable Cast Screen or Mirroring via Chromecast.
That is it. You can now enjoy all the action live on your big TV screen which is mirrored off your smartphone screen.