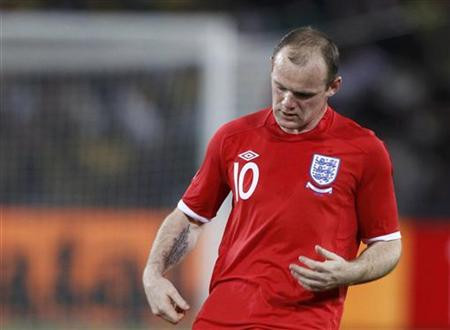 England's international football team are to play Hungary in a friendly today in what will be its first appearance since being severely thrashed by the Germans in the knock out stage of the World Cup earlier this summer.
Fabio Capello's England found themselves to be the object of scorn and derision from the press following their 4-1 defeat to Germany, a disastrous performance which itself followed three lacklustre games in which England struggled to qualify against mediocre teams.
Both Capello and his players have acknowledged the disappointment that fans undoubtedly felt about their failure, with Capello saying he expects boos from the crowd tonight and Steven Gerrard even saying he would be one of those doing the booing if he were a fan.
The fans and the media have picked over every possible reason why England failed to win, although few have mentioned the possibility that Germany (who also beat Argentina 4-0) were just exceptionally good this year.
England's players, they said, were too pampered and too well paid, making them soft and indolent in the face of their opponents (who presumably are not multi-millionarie football stars?).
On the other hand they were treated too strictly with Capello's disciplinarian restrictions on WAGs and alcohol causing the players to be too depressed and de-motivated to play well.
No it was not a question of being motivated or not. The players were tired, what with the Premier League being that bit longer than other national leagues and without any significant break, how would they have the energy left to play in a World Cup?
Indeed some or all of these factors and others may have played a part, with motivation being an area of particular concern. This week saw Paul Robinson and Wes Brown pull out of the England team after apparently saying they wanted to put their club careers ahead of playing for England, due mainly to their not being in Capello's first team.
Reassuringly Gerrard voiced his opinion that playing for England is an honour and that players who are called up should play for their country, while England under-21 manager Stuart Pearce has also spoken of the need to enhance the pride of players playing for England so that win-or-lose it becomes an enjoyable experience.
Regardless of the problems of the England side, one thing that players should not have to face tonight is the boos of their own fans.
Wayne Rooney famously made some ill-advised comments about England fans after the team was booed for one of its poor performances during the World Cup. While such language is not to be promoted he may have had a point that England needed encouragement during hard times rather than the kicking they got while they were down.
From the fans point of view one can understand their frustration, having paid to go to all the way to South Africa to watch their team, they were short-changed to say the least.
Tonight however if England are booed as they emerge on the pitch it will reflect badly on England fans rather than on the players. Are England fans really the kind of people to pay money so that they can go and boo their own team where they can hear them rather than in the comfort of their own home? Are they really the kind of people who want to pay and go throw tomatoes at people in the stocks? Let's how Capello and Gerrard are just being pessimistic with their talk of being booed tonight.
Would it not be much better to encourage the team, praising them when they win and being gracious in defeat? After all it's just a game isn't it?