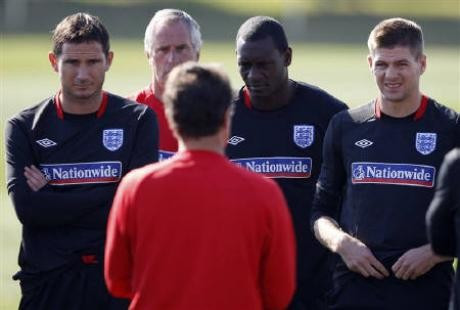 England are set to qualify for the last 16 of the World Cup in South Africa after a superb goal from Tottenham strike Jermain Defoe.
After a shaky start to the final game of the group stages against Slovenia, England started to regain some of the composure and confidence it was seen to be lacking in the first games against the USA and Algeria, which both ended in disappointing draws.
Defender Glen Johnson appeared to be a little nervy giving away a few needless free kicks to Slovenia early in the game, but some promising efforts from Wayne Rooney indicated that this might not be the drab performances seen from England so far.
However after 22 minutes it was Defoe who got the first goal after a decent cross from James Milner.
Following the goal England seemed to burst with new confidence with attempts from Rooney, Steven Gerrard and from Defoe again, although a second goal was not forthcoming.
Meanwhile in the other half of the group the USA and Algeria remained at 0-0 at half time, although both sides received and took their chances on goal.
Should the results stay as they currently are England will qualify first in their group, with Slovenia runners up. The USA and Algeria will both be going home if neither side can win the game.
With such a slender lead however England cannot afford to be complacent as a draw could well see them coming home.