At least one person has been reported killed in the Cameroonian city of Bamenda, capital of the North West province, during a confrontation between protesters and security forces. Protesters set up barricades to prevent the prime minister holding a rally where they planned to call for peace and unity on 8 December.
The North West and South West provinces, Cameroon's only English-speaking areas, are witnessing protests with people calling for an end to the use of French and perceived disenfranchisement.
Amid ongoing protests, some groups called for a return to a federal state system. Others called for the breakaway of the North West and South West provinces and the restoration of the so-called "Southern Cameroons", a British mandate during colonisation.
There are conflicting reports on the death toll. The BBC said one was man was killed following confrontations, but the Cameroon Concord website said at least two people were killed and "and several others injured".
The private Cameroon Daily Journal news website claimed soldiers used live bullets when clashing with protesters. The clashes occurred one day after Prime Minister Philemon Yang ruled out the option to hold a referendum on a possible return to a federal system in the country.
Protests explained
French and English are the official languages of Cameroon. In October, a group of English-speaking lawyers took to the streets of Bamenda to protest against the use of French in courts and the lack of English versions of some legal acts and codes.
Demonstrations continued throughout November with lawyers striking in both the North West and South West, amid allegations the Cameroonian police "used tear gas to disperse" the lawyers.
The alleged police reaction sparked further demonstrations in Anglophone Cameroon, where teachers and students are now striking in protest against the use of French in schools and the presence of "Francophone teachers" in English-speaking areas.
Security forces arrested at least 100 protesters amid allegations some people were killed in Bamenda and Buea, capital of Southwest region, something the government has denied.
Southern Cameroons and independence calls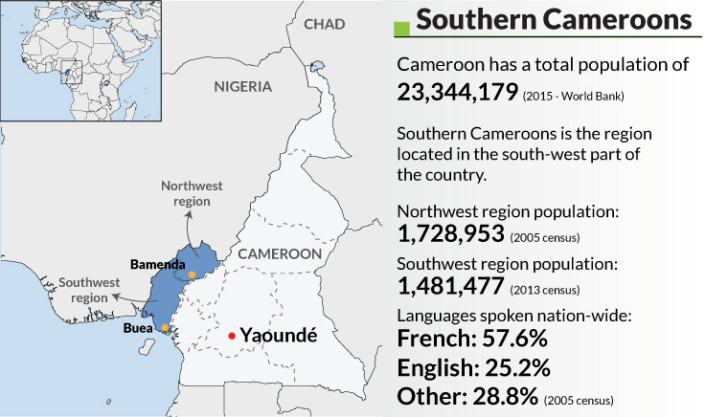 Southern Cameroons was the southern part of the British Mandate territory of Cameroons during the colonisation.
In 1961, people of Southern Cameroons voted whether to join Nigeria or the Republic of Cameroon, which had already obtained independence from Britain and France one year earlier.
The vote resulted in Southern Cameroons becoming part of the French speaking Republic of Cameroon.
In 1972, a new constitution was adopted in Cameroon, replacing the federal state with a unitary state.
The Cameroon Anglophone Movement was created in 1984. People originally sought a return to a federal system, but eventually started calling for independence.
More on possible alliance between Southern Cameroons and pro-Biafrans.
Update: Headline ammended to reflect that protest clashes were over use of French and English as official languages.