Tensions rise in Cameroon as teachers demand 'respect for Anglo-Saxon heritage'
IBTimes UK talks to Cameroon Teachers Trade Union on language-related grievances, strikes and protests.
Teachers in Cameroon's anglophone regions have been striking in protest against the use of French in schools and the presence of "Francophone teachers" in English-speaking areas.
The Cameroon Teachers' Trade Union (Cattu) declared a sit-in strike on 22 November for teachers and students in the Northwest and Southwest, the two English-speaking regions of Cameroon, inhabited by some 3.2 million people.
French and English are the official languages of the west African country, which has separate schooling systems in Anglophone and Francophone areas.
"The 1998 law on the orientation of education clearly says that the two sub-systems of education are independent and autonomous ," Tassang Wilfred, Cattu's Secretary General, told IBTimes UK.
"The French system of education is the majority and has been trying to wipe out our system of education, and that means wiping out our own cultural heritage.
"We have been trying to resist that, but we have got to the point where they [government] are infiltrating Francophone teachers who cannot speak English and don't even master our own system of education and sometimes they teach in a language that's neither English nor French. We call it Franglais or Pidgin," he went on alleging.
"Anglophone teachers want to teach in English and we want Anglophone children to be taught by teachers who know the English sub-education system of Cameroon."
Protests
The strike was called amid ongoing protests in Bamenda, capital of Northwest, were dozens of people took to the streets to demonstrate against perceived disenfranchisement and alleged failure to implement measures that would guarantee self-determination.
Protests started in October, when a group of English speaking lawyers took to the streets of Bamenda to protest against the use of French in courts and the lack of English versions of some legal acts and codes.
Demonstrations continued throughout November with lawyers striking in both the Northwest and Southwest, amid allegations the Cameroonian police "used tear gas to disperse" the lawyers.
The alleged police reaction sparked further demonstrations in Anglophone Cameroon. Some groups also called for the independence of the Anglophone Cameroon, known as "Southern Cameroons", during British colonisation.
Southern Cameroons and independence calls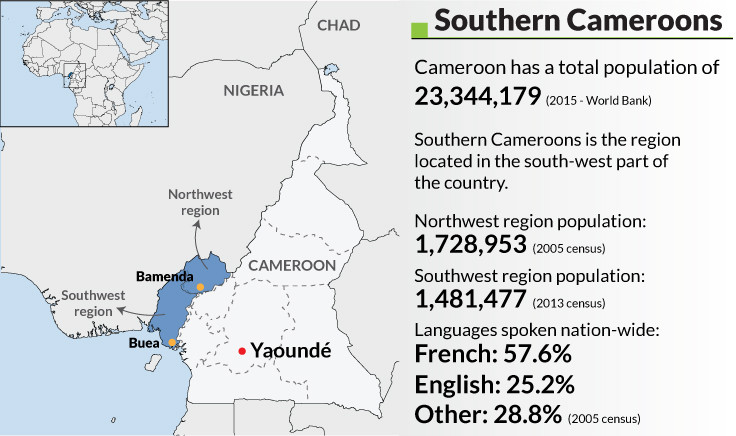 Southern Cameroons was the southern part of the British Mandate territory of Cameroons during the colonisation.
In 1961, people of Southern Cameroons voted whether to join Nigeria or the Republic of Cameroon, which had already obtained independence from Britain and France one year earlier.
The vote resulted in Southern Cameroons becoming part of the French speaking Republic of Cameroon.
In 1972, a new constitution was adopted in Cameroon, replacing the federal state with a unitary state.
The "Cameroon Anglophone Movement" was created in 1984. People originally sought a return to a federal system, but eventually started calling for independence.
More on possible alliance between Southern Cameroons and pro-Biafrans.
Security forces fired tear-gasses and clashed with demonstrators on 22 November, amid allegations between one and four people were killed.
The situation was tense and most of the shops were closed on 23 November, the BBC reported.
"The street demonstrations occurred on Monday have nothing to do with the teachers' strike and our educational grievances. Teachers are not calling for independence," Wilfred said.
"We are asking the authorities to put in place a system of government that would not interfere with our educational sub-system and would respect our Anglo-Saxon heritage".
Wilfred then said teachers are continuing the strike today, 23 November, and students are staying at home.
He also sent to IBTimes UK a video appearing to show security forces using water cannons on a student building in Bamenda, to force students who are adhering to the strike to leave the premise and attend lectures. IBTimes UK could not independently verify the footage.
The Cameroonian embassy in London has not replied to a request for comment.
It is believed the Northwest region's governor is holding meetings with the teachers' representatives to seek a solution.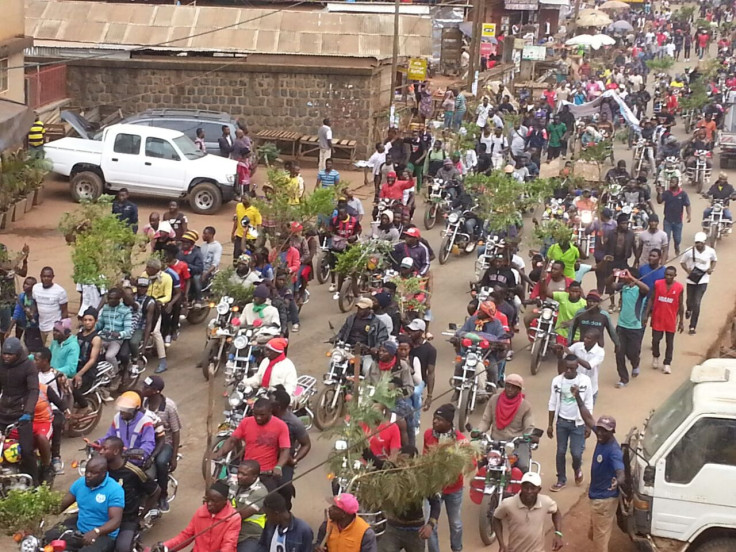 © Copyright IBTimes 2023. All rights reserved.