People in the anglophone areas of Cameroon have been protesting against perceived disenfranchisement and alleged failure to implement measures that would guarantee self-determination, activists have told IBTimes UK.
Protests started in October, when a group of English speaking lawyers took to the streets of Bamenda city, capital of the Northwest Region, to protest against the use of French in courts and the lack of English versions of some legal acts and codes.
The demonstrators also said they would create a new bar for English-speaking lawyers only.
Protests continued throughout November with lawyers striking in both the Northwest and Southwest, the two English-speaking regions of Cameroon, inhabited by some 3.2 million people.
The two regions constitute the so-called "Southern Cameroons" territory, a British protectorate during colonisation.
Earlier this month, Bobga Harmony, president of Association Lawyers of Northwest Cameroon, told the BBC the Cameroonian police allegedly "used tear gas to disperse" the lawyers.
The alleged police reaction sparked further demonstrations in anglophone Cameroon, with people calling for independence.
Explained: Southern Cameroons and independence calls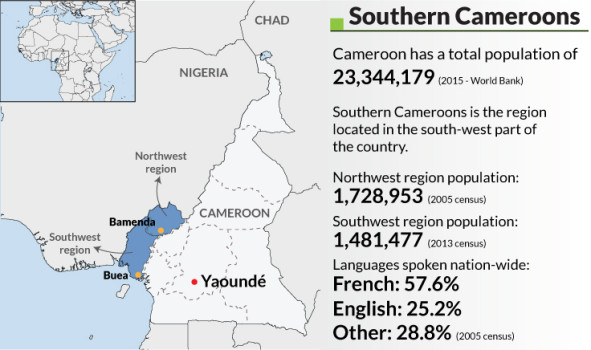 Southern Cameroons was the southern part of the British Mandate territory of Cameroons during the colonisation.
In 1961, people of Southern Cameroons voted whether to join Nigeria or the Republic of Cameroon, which had already obtained independence from Britain and France one year earlier.
The vote resulted in Southern Cameroons becoming part of the French speaking Republic of Cameroun.
In 1972, a new constitution was adopted in Cameroon, replacing the federal state with a unitary state.
The "Cameroon Anglophone Movement" was created in 1984. People originally sought a return to a federal system, but eventually started calling for independence.
More on possible alliance between Southern Cameroons and pro-Biafrans.
Reasons behind independence calls
"This is not an issue that began with the lawyer protest in October, but it started in 1961, when the Southern Cameroons territories were annexed to modern-day Cameroon," Ngu Tatih, from the Ambazonia Governing Council, told IBTimes UK. Ambazonia is a term used to identify the movement that seeks the restoration of Southern Cameroons.
Pro-independence groups argue that the UN Resolution 1608, passed in April 1961, was not implemented.
The document required the UK, Southern Cameroons and Republic of Cameroon to engage in talks on measures to implement for the annexation.
"In 1961, our people were given two choices and we decided to join Cameroon and create a confederation. We did not decide to create an alien government for our people, as eventually became the case. People in Ambazonia [Southern Cameroons] are calling for independence without pre-conditions," Tatih continued.
He then alleged security forces killed three people during recent demonstrations, which he said are still ongoing and involve teacher groups but also civilians.
"We are calling on the international community to intervene on this matter, before it gets worse," he said. "This is going to spiral into something that is going to affect not only people of Ambazonia, but the sub-region as well."
A spokesperson for the country's defence ministry has declined to comment because "it is a political matter".
The Cameroonian embassy in London has not replied to a request for comment.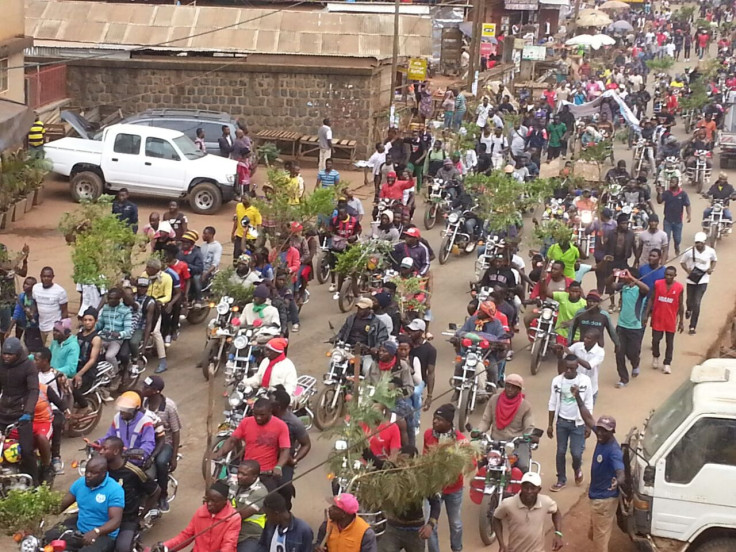 Pro-Active Dialogue
David Otto, counterterrorism expert at UK-based TGS Intelligence Consultants, confirmed to IBTimes UK that protests are ongoing.
He called on the Cameroonian government to start a "proactive" dialogue with protesters to address people's grievances.
"The initial skirmishes of this particular protest was about the legal framework, but protests increased and included other elements. English-speaking people say they are marginalised and claim the amalgamation of the English and the French Cameroons was unconstitutional," Otto, who is also a senior adviser for Global Risk International (GRI), said.
"The reason why this is dragging is because of how the government reacted when the protest began peacefully. If the government continues to apply force, the situation might escalate. It is similar to what happened with pro-Biafran activists," he concluded, referring to the ongoing pro-independence movement that seeks the independence of Biafran territories from Nigeria.
---
NOTE: IBTimes UK has changed the name of the Ambazonia Governing Council member to protect the interviewee's identity.
---