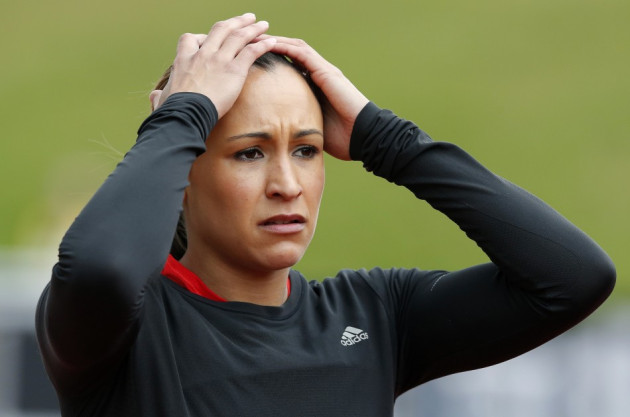 Jessica Ennis-Hill's returned to competitive action for the first time since London 2012 with a bang but the Olympic heptathlon champion remains a doubt for August's World Athletics Championships in Moscow.
Having not competed this season after withdrawing from a series of events including the British Championships in Birmingham with a left Achilles tendon injury, Ennis-Hill returned at a low key Loughborough European Athletics Permit meeting on Tuesday.
The 27 year old threw a personal best of 48.33m in the javelin before winning the long-jump competition with 6.26m, however not everything is well with the Sheffield-born athlete, who remains troubled by a foot problem.
British Athletics confirmed earlier this month that Ennis-Hill was undergoing rigorous rehabilitation which threw into doubt her participation at the world championships next month.
While her return raises hopes Ennis-Hill will compete at this weekend's London Anniversary Games at the Olympic Stadium, where she is scheduled to compete in the 100 hurdles and long jump, the former world gold medallist remains hindered by a foot issue which could still rule her out of the meet in Moscow.
"It's pain," she said. "It's one little bit that's really painful. When I compress it and when I'm pushing off it, it hurts.
"If I had one event to prepare for then maybe it would have been a bit easier but having to train for seven events and get all the work done that I needed to get done, it just hasn't happened unfortunately.
"It's been a long few weeks just assessing it each day, seeing how it's feeling and having to pull out of so many competitions that I'd planned to do. It's just been really frustrating and disappointing.
"I had such a great year last year and once I'd had a break I was looking forward to getting back into it. Once you see everyone competing and see the competitions you had planned to do but had to pull out of, it's really annoying.
"I am still hoping to be in London. We can assess how it goes, how I'm feeling physically, how it holds up the next day or two and then decide whether I'm ready."
The Diamond League event this weekend in London, which marks a year since the opening ceremony of the Olympic Games, represents one of the last opportunities for Ennis-Hill, maligned by injury for much of the year, to compete prior to the world championships where she hopes to reclaim her title from defending champion Tatyana Chernova.
Ennis-Hill has been named in the British squad to travel to Russia for the championships between 10-18 August, but coach Toni Minichiello has admitted she is unable to train flat-out.
And the 2009 world champion is refusing to contemplate traveling to Moscow unless she is confident of claiming gold.
"I wouldn't go to Moscow if I didn't think I could be competitive," Ennis-Hill admitted. "I want to be competitive, I don't want to go to just enjoy it.
"I want to contend for the gold medal. The standard is not really amazing at the moment but Chernova's coming into form. I want to be ready.
"It's been really frustrating and disappointing. I didn't think I'd be opening up my season at practically the end of July.
"Having such a great 2012, I was looking forward to getting back into it in the summer and it is really annoying. I originally thought it would settle down really quickly, but it's one of those things that takes forever to be right."