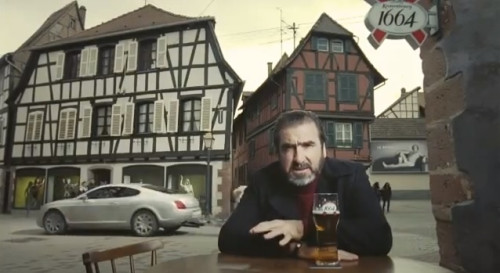 A beer advert featuring iconic footballer Eric Cantona has been banned - for being too French.
The ad, which promotes French lager Kronenbourg 1664, has been pulled after the Advertising Standards Agency (ASA) said it gave viewers the impression the beer's hops are grown in France.
In the advert Manchester United legend Cantona says: "Here in Alsace, things are a little bit different. The hop farmers are treated like the footballers of Britain. They are idolised and adored.
"And why not? They are living legends. They are the men that grow the noble hops that make Kronenbourg the taste supreme ..."
But although Heineken, which produces the lager, stated that the Strisselspalt hop was a key ingredient in the beer and indeed from the Alsace part of France, the ASA upheld a complaint over the beer's "Frenchness" saying other hops were in the recipe.
The agency also upheld a complaint about a Kronenbourg newspaper advert, which read: "IF YOU FIND A BETTER TASTING FRENCH BEER, WE'LL EAT OUR BERETS. The French know a thing or two about taste. That's why Kronenbourg 1664 is always brewed with the aromatic Strisselspalt hop for A Taste Supreme".
However, in small print in the bottom corner of the page it stated: "Brewed in the UK".
Heineken argued Kronenbourg was an "inherently French beer" that was first brewed in 1952 in Alsace by Brasseries Kronenbourg to celebrate their founder.
The company said the beer was brewed in the UK to a French recipe in a process supervised and approved by Brasseries Kronenbourg and added its "Frenchness" was an integral part of the brand.
The agency, however, ruled the ads must not appear in their current form, saying: "We told Heineken UK Ltd to take care not to emphasise a connection with France to the extent that their ads implied that Kronenbourg 1664 was brewed in France, or that all or most of the hops used in the recipe were grown in France."