A Hong Kong woman has pleaded not guilty to 20 charges of abusing her Indonesian domestic helper in a landmark case, with images of her bruised body prompting international outrage at the treatment of maids in the Asian financial centre.
Law Wan-tung, 44, a former beautician, is accused of assaulting domestic helper Erwiana Sulistyaningsih and two other maids, also from Indonesia.
The defendant pleaded not guilty to charges, including inflicting grevious bodily harm, criminal intimidation and failing to pay wages. The court ordered a pre-trial to begin on 10 July.
Sulistyaningsih, 22, was reportedly unable to walk after eight months of abusive treatment and was admitted to hospital in a critical condition after returning home to Sragen in central Java, The Jakarta Globe reported.
Sulistyaningsih said the abuse began in May 2013, adding that she did not receive her salary for the whole period.
When she left Hong Kong in January 2014 to return to Indonesia, doctors stated the burns on her body were caused by boiling water.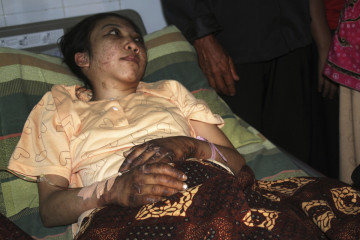 Photographs of her battered face and body sparked accusations on the internet of "modern-day slavery".
Indonesian president Susilo Bambang Yudhoyono has denounced her treatment as torture.
Around 20 domestic helpers and an employer gathered outside the court, holding banners and portraits of Erwiana, chanting: "Justice for Erwiana," and "We are not slaves".
Eni Lestari, a spokeswoman for the group Justice for Erwiana, said: "We will fight all the way to the end until Erwiana gets justice. We want to give a lesson to employers. We are not slaves. We are also human."
She said she had received a text message from Erwiana after Law entered her plea, saying: "I feel sad. When will justice be given to me?"
The landmark case sparked international protests about the treatment of Indonesian domestic helpers.
According to a report released earlier this year by Amnesty International, Indonesian migrant domestic workers are at risk of serious human and labour rights violations in Hong Kong.
Once Indonesian migrant workers arrive in the former British colony, they frequently have their documents confiscated by their employer and their freedom of movement restricted.
"Amnesty International documented that the vast majority of the women interviewed had their documents taken by either their employer or the placement agency in Hong Kong and about a third of the respondents were not allowed to leave the employer's house," the report read.
Amnesty found that interviewees work on average 17 hours a day and many do not receive the Minimum Allowable Wage of HK$4,010 (£315) a month as stipulated by the Standard Employment Contract for foreign domestic helpers.
In April, Time magazine named Erwiana in its 100 Most Influential People.