Farmers in Essex are currently plagued by industrial scale fly-tipping carried out by a group of criminals dubbed the "Trash Mafia". But the farmers will not take action, over fears of the dumpers' are linked to organised crime.
The farmers have claimed that around 116 cases of fly-tipping offences have occurred since September 2016. They involve lorries carrying skips being driven onto fields, which are unloaded onto the land and crops. The dumpers then sort through the rubbish for valuable scrap, which is removed, leaving worthless trash behind.
This process costs the economy £1bn ($1.25bn) annually, according to a report in The Times, with 900,000 cases being reported in the UK each year.
Will Dickinson, chairman of an East Anglia forum of the National Farmers Union (NFU), called the group "nasty" and said the farming community feared the dumping was linked to an East End crime boss.
"These are really nasty pieces of work. Our members are worried about confronting them [lest] their legs end up in concrete."
The NFU's county advisor for Essex, Adam Scott, called the dumping "serious organised crime" that makes "serious amounts of money".
In normal circumstances, fly-tipping is carried out using vans and cars, but this level of dumping requires eight-wheeled lorries with hydraulic lifts.
Farmer Rob Stacey believes the extensive operation would save the criminals more than £100 per trip to a landfill tip.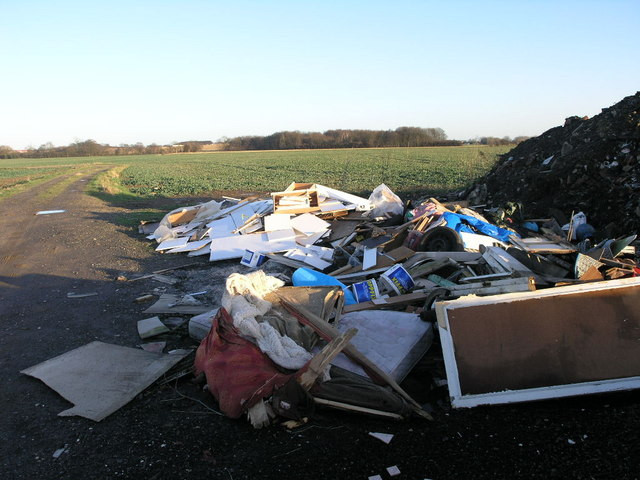 "It's because of the landfill tax," said Stacey, "It costs an awful lot of money to tip industrial waste into a landfill. It's easier for them to tip it into the countryside."
While Stacey has attempted to secure his Chelmsford farm, he was less optimistic about the possibility of stopping the trash mafia in their tracks.
"We are told to lock up your fields, lock up your gates, but these guys drive straight through. The only way you can do it is by declaring your farm a fortress and dig a big moat."
In Hertfordshire, there were more cases – 400 since September 2016 – although the council admitted most of these were on a small scale.