Essex woman arrested for 'urinating on war memorial' on 100th anniversary of the Somme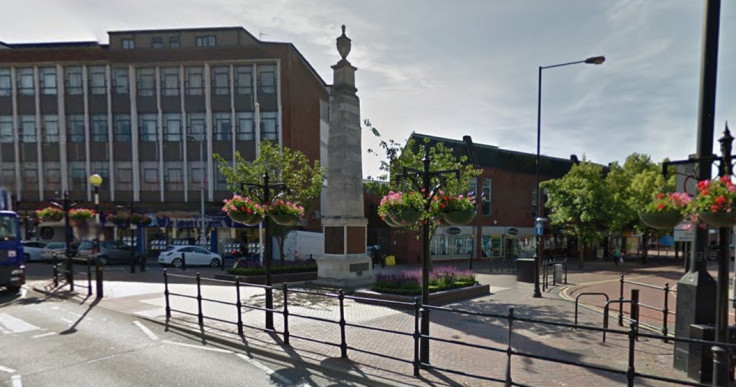 KEY POINTS
Kelly Martin was charged with 'outraging public decency'
WARNING – GRAPHIC IMAGES
Police in Essex have charged a woman with "outraging public decency" after images were posted on social media showing a partially-clothed woman urinating onto a war memorial on the 100th anniversary of the Battle of the Somme. Kelly Martin, 42, from Grays, has been charged in connection with the incident which took place in Grays High Street on Friday, 1 July, as the centenary was marked during events across the world.
Speaking to the Brentwood Gazette one local high street worker said: "They said a party of people have been there for the last four days. There have been a few of them who have been there from Monday to Thursday. It is unfortunate to hear. They were absolutely p****d. We have had ambulances and paramedics around here wasting their time. There have been instances where they are laying on the floor. It is just disgusting."
A spokesman for the Royal British Legion told the Mail: "The Legion is shocked and saddened to hear of this incident. War memorials and graves honour the memory of the British Armed Forces who have made the ultimate sacrifice and those who defend the freedom we enjoy. They deserve to be treated with the utmost respect."
An Essex Police spokesman said: "Officers investigating an incident of outraging public decency in Grays have made an arrest. Police were made aware of a photograph circulating on social media on July 1 which showed the offence taking place by the war memorial on Grays High Street." Martin will appear at Basildon Magistrates' Court on Monday.
Events took place across the world to commemorate the first day of the Somme, in which almost 20,000 British soldiers died and 38,000 were injured. Altogether one million men were injured or killed on all sides.
Earlier this year Top Gear host Matt leBlanc was condemned for performing "donuts" in a sports car around the Cenotaph in Whitehall, London.
© Copyright IBTimes 2023. All rights reserved.