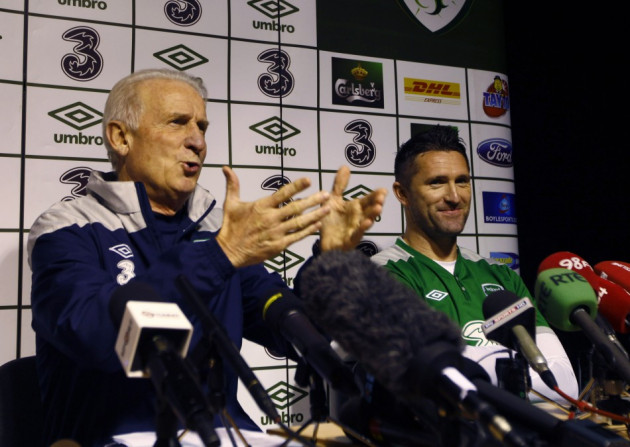 Republic of Ireland will be hoping to put one foot in the Euro 2012 draw with victory in the first leg of their play-off against Estonia on Friday night.
Ireland are favourites for tonight's clash but they will be wary of the threat posed both by Estonia and their own horrendous record - they have lost the last four - in play-off matches.
Manager Giovanni Trapattoni has refused to be drawn on his line-up for the match. The Italian has named 10 of his starting XI but has yet to identify who will partner captain Robbie Keane up front.
Stoke's Jonathan Walters and Simon Cox of West Brom are the two strikers under consideration, with Cox expected to start after his stand-out performance against Armenia last month.
"I am sure of 10 players and we must decide whether it is Cox or Walters," Trapattoni said. "We have to decide on the balance of the team and which is best for the first half and the second half.
"After tomorrow, you can ask me. It is not about keeping Estonia guessing. They know us and we know them and the type of qualities we both have."
Earlier in the week, Trapattoni indicated his job is on the line. Two years ago, Ireland missed out on a place at the World Cup after Thierry Henry's infamous handball helped France advance ahead of Trapattoni's side.
"Our life is dangerous. I have a habit of looking down on dangerous situations. But I think I will live, if not here, then maybe there is another. I don't know where, but sure, I am not stopping here.
"In football every Sunday, or in England Saturday, you see little teams beat the great teams. That's football. For me, it is no surprise.
"But we must think these 180 minutes is our life, players, manager, the Irish people. I will be very proud if we achieve this result because it means up until now we have done our jobs well."
Republic of Ireland probable XI: Given; Kelly, St Ledger, Dunne, Ward; Duff, Whelan, Andrews, McGready; Keane, (Cox).