The Ethiopian government has unveiled rules for a state of emergency it declared earlier in October. The new measures were declared after months of anti-government protests in Oromia state, and occasionally in the Amhara region.
The state of emergency is supposed to last for six months. It was declared after activists and rights groups repeatedly claimed protests have resulted in the death of more than 500 people.
Under the new measures, diplomats cannot travel more than 40km (25m) outside of the capital Addis Ababa without official permission.
People are also barred from contacting individuals and groups that the state has labelled terrorists and from watching media channels including Oromia Media Network and Ethiopian Satellite Television and Radio, a statement by Ethiopia's minister of defence Siraj Fegessa said, according to news agency AP.
Rallies and public meetings without permission from authorities were also outlawed. The state of emergency also gives security forces the right to detain and search suspects without a court order.
Those who fail to observe the new measures, risk imprisonment for up to five years.
Opposition claimed the new measures aim to quell ongoing anti-government protests. The government said, in several statements, the state of emergency will be used to coordinate security forces against "anti-peace elements".
Ethiopia has come under fire for the way it is handling unrest in Oromia and Amhara. On 11 October, Prime Minister Hailemariam Desalegn admitted the death toll could be higher than 500 since protests started in November 2015. However, he denied security forces had reacted disproportionately.
After being urged by both Germany and the US to use the state of emergency to open a dialogue with protesters, Ethiopia also claimed rallies had stopped in Oromia.
However, an activist who spoke to IBTimes UK on conditions of anonymity claimed on 17 October that 13 people had been killed during clashes in East Shewa, Oromia.
"There is also an ongoing armed confrontation between regime forces and rebels from the Oromo Liberation Army. This is separate from the protests," the source continued.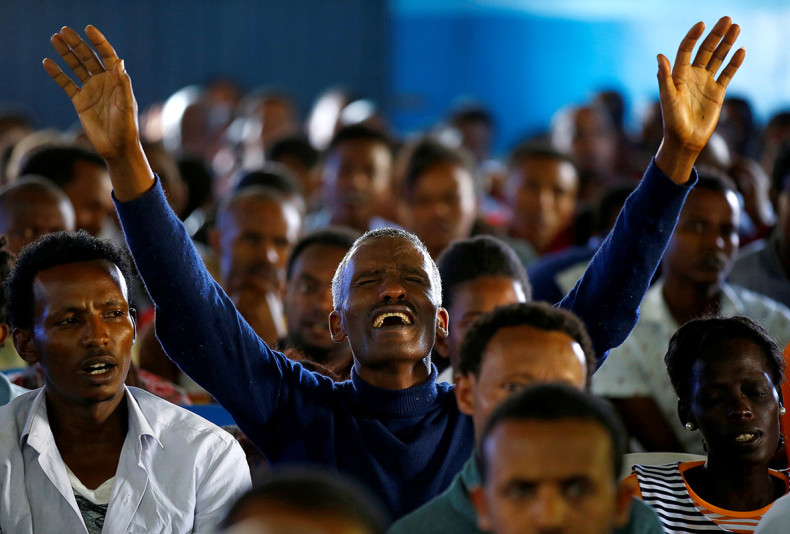 Reasons behind protest
Demonstrators first took to the streets of Oromia in November 2015 to voice their dissent against a government draft plan that aimed to expand the boundaries of the capital.
They argued the so-called "Addis Ababa master plan" would lead to the forced evictions of Oromo farmers and would undermine the survival of the Oromo culture and language.
The Ethiopian government scrapped the master plan, following increasing agitation. Protests are continuing, with people calling for self-rule, the liberation of political prisoners and the end of what they perceive to be a military regime in the region. This includes an end to an alleged crackdown by security forces on "peaceful and unarmed" demonstrators, mainly students and farmers.
Human Rights Watch (HRW) and other rights groups claimed security forces killed at least 100 people in the Amhara region during anti-government protests held in August. The government denied the allegations of violence. Protests erupted in Amhara after thousands took to the streets of Gondar and Bahir Dar to protest over the administration of disputed territories.
Members of the Welkait Tegede community demanded their lands be administered by the Amhara region, instead of the Tigray state.
Protesters, who identify themselves as ethnically Amhara – Ethiopia's second largest group – clashed with police during the demonstrations, labelled as the biggest anti-government unrest Ethiopia has witnessed in recent history.
On Monday, President Teshome told parliament, where no opposition party is represented, that the electoral system needs to be altered so that non-government MPs are elected.