Earlier this month, Ethiopia declared a nationwide state of emergency following anti-government protests in the Oromia and Amhara regions. Members of the opposition, activists and rights groups repeatedly claimed the response to the protests, labelled as the biggest anti-government unrest Ethiopia has witnessed in recent history, have resulted in the death of more than 500 people since November 2015.
Critics of the state of emergency – which restricts, among other things, freedom of movement and the use of social media – claimed it will be used to quell the ongoing unrest.
The government, which often blamed "outside forces" including from Eritrea and Egypt for the protests, said it will use the new measures to co-ordinate security forces against "anti-peace elements" that aim to destabilise the country.
Earlier in October, Prime Minister Hailemariam Desalegn admitted the death toll could be higher than 500, but denied security forces had reacted disproportionately.
Protests in Amhara and Oromia 'different'
Protests in Amhara and Oromia were not driven by the same causes. In Amhara, people demonstrated calling for their lands to be administered by the Amhara region, instead of the Tigray state.
"Protests in Amhara are not by historically repressed groups, but by groups that historically created the Ethiopian empire and have done very well under this regime, certainly in economic terms," Harry Verhoeven, professor of government at Georgetown University, told IBTimes UK.
Oromo people – Ethiopia's largest ethnic group – have often claimed they are disenfranchised and discriminated against by the government. The latest spat of protests was sparked in November 2015 by a government draft "Addis Ababa master plan", which aimed to expand the boundaries of the capital.
Protesters argued the plan would lead to the forced evictions of Oromo farmers and would undermine the survival of the Oromo culture and language. The Ethiopian government scrapped the plan, following increasing agitation.
However, protests continued, with people calling for self-rule, the liberation of political prisoners and the end of what they perceive to be a military regime in the region.
"What is happening in Amhara is about who is in charge in the state. What is happening in Oromia is about a fairer share. Grievances are different," continued Verhoeven, whose research work focuses, among others, on the Horn of Africa.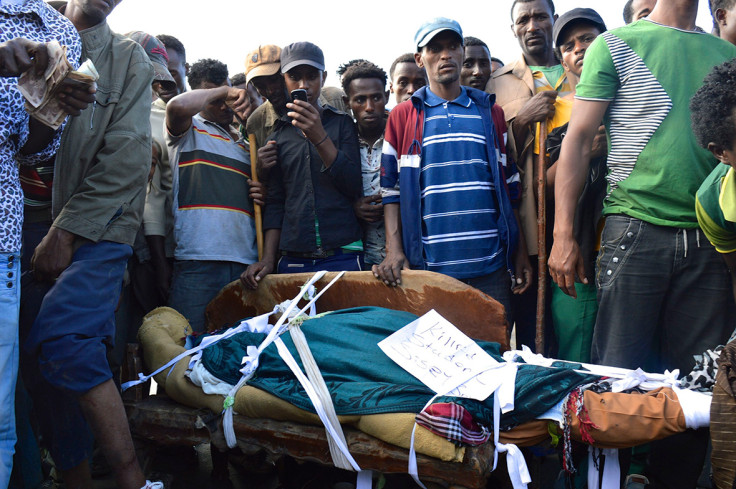 An 'old Ethiopian problem'
Verhoeven explained the Oromo people have never done so well as they have under the current government, led by Oromo President Mulatu Teshome.
"However, many Oromo still feel that, despite this progress, other groups, in relative terms, have made faster progress. The government is trying to say that this is an entirely external problem, but this is an old Ethiopian problem, not something that was created by Eritrea or Egypt," he said.
"However, this is not to deny that what is happening in the country is being instrumentalised by outside forces, including the diaspora and some members of the Oromo Peoples' Democratic Organization (OPDO) party, who have been trying to use these protests to gain their concessions."
Verhoeven added that the state of emergency might fail to address long-standing issues at the heart of the protests in Oromia.
"Core issues are likely to further inflame. I know many Oromo who disagree with what is happening and actually like the regime, but who are quite furious because of what just happened," he said.
"Now that their ordinary lives are disrupted – in terms of movement, social contacts, in terms of internet access with the outside world – being opposed to the government is a lot more reasonable and attractive. And that's another manifestation of the party being blinded by its own history and its own culture and not seeing things for what they are."
In a statement sent to IBTimes UK, the Ethiopian embassy in London reiterated the six-month-long state emergency aims to restore peace and order in the country.
"There has been over six months of unrest that has threatened the nation's stability. In addition to this, there have been attacks on the people of the country, against vital infrastructure, businesses, health and education centres, as well as government offices and courts, many of which have been destroyed," read the statement.
"There have been attacks on businesses, many of them foreign-owned, including farms growing flowers for export. The EPRDF [ruling political coalition Ethiopian People's Revolutionary Democratic Front] - led democratic and developmental state is self-correcting and committed to resolving grievances and demands raised by people.
"It is intent on improving people's livelihoods by eradicating poverty and backwardness. Above all, the government is inward-looking and ready to learn from successes and weaknesses. The situation is now back to normal. The government is in discussion with a range of groups across the population, including opposition parties."