EU migrant crisis: Train stand-off in Hungary as Britain poised to accept more refugees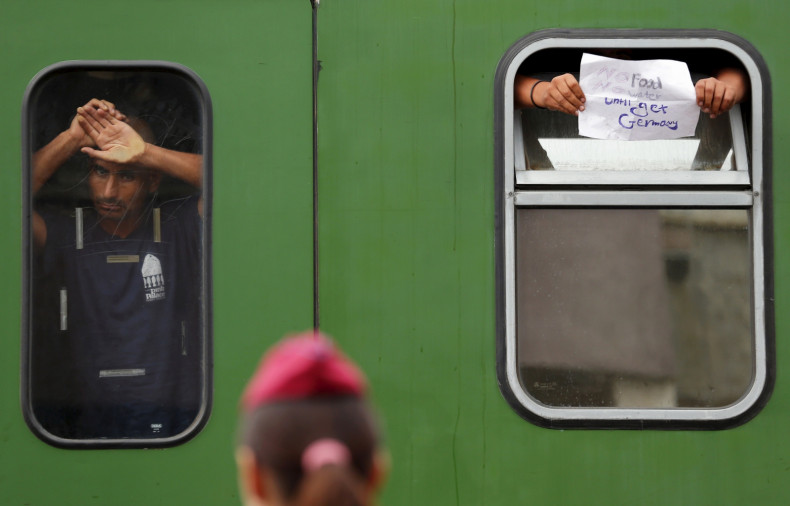 A stand-off between Hungarian police and migrants shut in a train near a refugee camp in Bicske, west of Budapest entered its second day as European leaders bickered while trying to find a solution to the crisis.
The asylum seekers had boarded the west-bound convoy hoping to reach Germany after days of tensions and chaos at the capital's main Keleti railway station. Security forces however stopped it just 30km outside Budapest, and tried to force the migrants off to lead them at a nearby refugee camp.
Scuffles broke out as many refused to leave the carriages. A man was detained after he snapped and forced his wife and baby child to lay down on the tracks with him in protest.
On 4 September many were still on the train while others demonstrated outside closely watched by police. One held a placard reading: "No camp, no water, no food, we want freedom!" Police said only 16 people agreed to check into the centre, while some 500 others have refused to do so.
The incident came as Hungarian prime minister Viktor Orban drew criticism from his European colleagues for saying the crisis that has engulfed Europe was really "a German problem", also adding that the influx of Muslim migrants was threatening the continent's "Christian roots".
Orban, a hawkish right-winger who has had a razor-wire fence built at the border with Serbia to contain the migrant flow, noted that Hungary was just a passage point for most wound-be-refugees who want to reach Germany and northern Europe.
Under current European rules however the first European country of entry has a duty to register all arrivals and process asylum application. If migrants travel to a second EU nation, they can be forcibly sent back.
The Hungarian leader was criticised by Luxembourg's foreign minister Jean Asselborn who told German television station ZDF that "one sometimes has to be ashamed for Viktor Orban".
Donald Tusk, the president of the European council, also disparaged Orban's claims. "Referring to Christianity in a public debate on migration must mean in the first place the readiness to show solidarity and sacrifice," he said. "For a Christian it shouldn't matter what race, religion and nationality the person in need represents."
Britain set to bow to EU solidarity call
Tusk also urged all EU states to show solidarity, as governments' are discussing a quota system for an even redistribution of refugees. "The countries that are not directly affected by this crisis and have experienced solidarity from the EU in the past should show it to those in need," he said. "Today it is truly a paradox that the biggest countries in Europe, like Germany and Italy, need our solidarity. So does Hungary."
The haunting photographs of a dead three-year-old Syrian child washed up on a Turkish shore seem to have persuaded some leaders opposing the quota plan, like British prime minister David Cameron, to adopt a softer stance.
Cameron, who earlier said the crisis was not going to be solved by accepting more refugees, claimed to be deeply moved by the images, hinting Britain might eventually open its doors to more people.
The photos had triggered the emotional reaction of a large part of the public, with many demanding Britain does more to help.The government is expected to unveil measures to accommodate refugees, mainly from Syria, shortly.
A record number of more than 320,000 refugees and migrants have crossed EU borders so far this year, mainly through a dangerous sea route across the Mediterranean to Greece and Italy. Some 107,500 arrived in July alone, while more than 2,600 are believed to have died at sea since January.