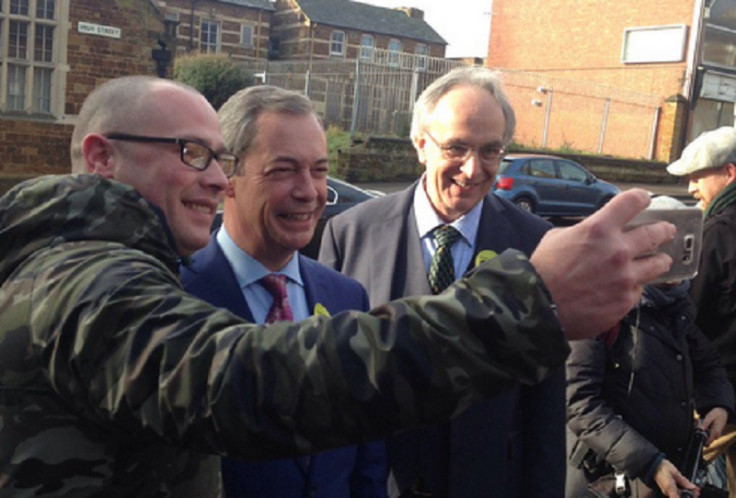 A small group of pro-refugee activists attempted to overshadow Nigel Farage's visit to Wellingborough ahead of the official launch of the Grassroots Out (GO) campaign on 23 January. The Ukip leader and local Tory MP Peter Bone were heckled by the "refugees welcome" demonstrators as the Eurosceptics walked through the Northamptonshire town centre.
"For hundreds of years Britain has accepted refugees, for those in need and those facing imprisonment, they are welcome as far as I'm concerned," Paul Crofts, one of the protesters, told IBTimes UK. But the 62-year-old was challenged by Farage who rhetorically asked: "Unlimited numbers?"
"If they are in need," Crofts replied. "The whole world should date the refugee burden, whole of Europe should share the refugee burden that's coming from out of Syria. We went into these countries like Iraq and Afghanistan, the refugees are escaping these countries. We have a moral, legal and ethical duty to help people who are dying."
The exchange came just hours before GO held its official launch in nearby Kettering. The group is the third Brexit campaign to emerged ahead of the EU referendum, but it will not compete with Vote Leave and Leave.EU for the Electoral Commission's official Brexit campaign designation. Instead, the organisation will serve as a grassroots Eurosceptic umbrella between the groups.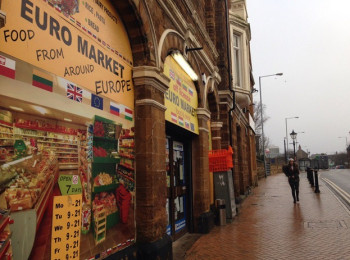 "We can't wait for [the Electoral Commission's decision], we have got to get cracking," Farage said.
"From today we are getting cracking and what you will see in Kettering this afternoon is the first in a series of big meetings right across the country."
The Ukip leader and GO had some support in Wellingborough market, where Kate Hicks backed their calls for a Brexit.
"The money that we pay into the [EU] could be spent on the people in this country instead of anywhere else. Everyone looks at Britain for a helping hand because we are fools – we just help anybody," the 68-year-old told IBTimes UK.
Kevin Luck, 49, would not reveal where he plans to vote in the EU referendum, which will be held before 2017, but he argued that the 28-nation bloc has "held Europe together in terms of not going to war and all of that sort of stuff".
The latest online opinion poll from Survation, of more than 1,000 people between 15-16 January, put "leave" four points ahead of "remain" (42% versus 38%, respectively).